China-DPRK Border Towns During The Covid Pandemic (PART 2 – Tumen)
Article translated to English from our local Chinese resident contributor, Minhye.
Part 2 of exploring Chinese towns at the border with the DPRK during the 2021 COVID-19 pandemic. We follow Minhye as she takes a trip to Tumen City.
In case you missed it, you can read Part 1 here: https://dprk360.com/inside-north-korea/china-dprk-border-towns-during-the-covid-pandemic-part-1-changbai/2800/
Tumen city (图们市) is a small town that is part of the Yanbian Korean Autonomous Prefecture, located in Jilin Province in northeast China. It has an ethnic Korean population of approximately half the government's 2021 June Population Report of 85,248. Which is about twice the Korean population of Changbai. Most tourists come here with a curiosity about the border that China shares with the DPRK. We were told that before COVID-19, this town easily sees hundreds of domestic tourists on day-tours into the DPRK town of Namyang crossing the river on a daily basis. Since the start of the COVID-19 pandemic, such tours have stopped. The closest you could get to the DPRK nowadays is via the Tumen Bridge.
We visited here in October 2021. While it was pretty quiet on the weekend we were there, the locals told us that there were crowds of domestic tourists during the October holiday week.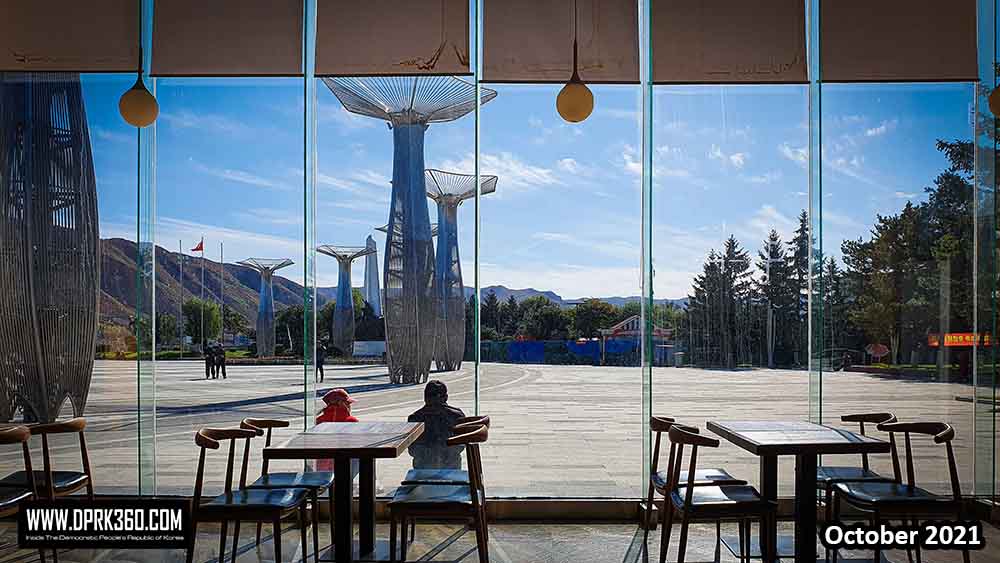 We spotted a bride with her bridesmaids walking across a plaza by the Tumen River. Her wedding carriage was a Maserati adorned with flowers. The mountain in the background belongs to the DPRK. It seems like the Tumen River Plaza is a popular place to conduct wedding photoshoots as we saw two different couples taking their wedding photos here that morning.
---
Around Tumen
Tumen is a part of the Yanbian Korean Autonomous Prefecture. Therefore all road signs and shop signboards are bilingual with Chinese and Korean texts. This is the same as with the Changbai Korean Autonomous County.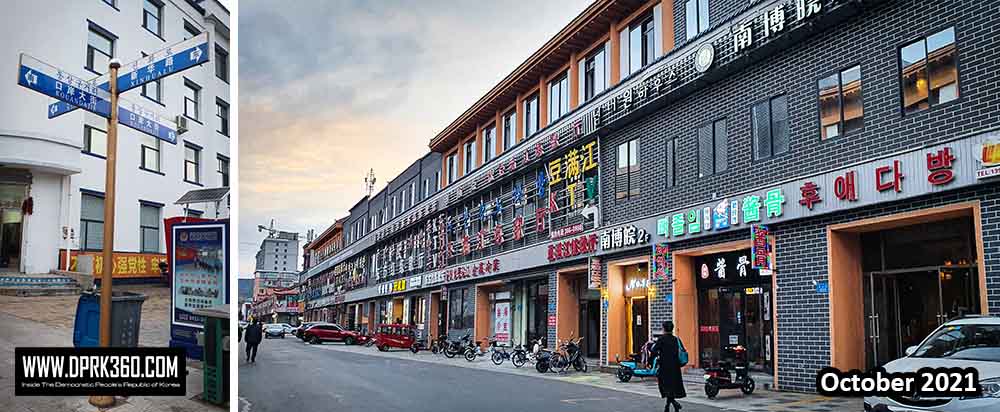 Here you see a street full of restaurants and eateries. As the sun sets, all the signboards begin to light up.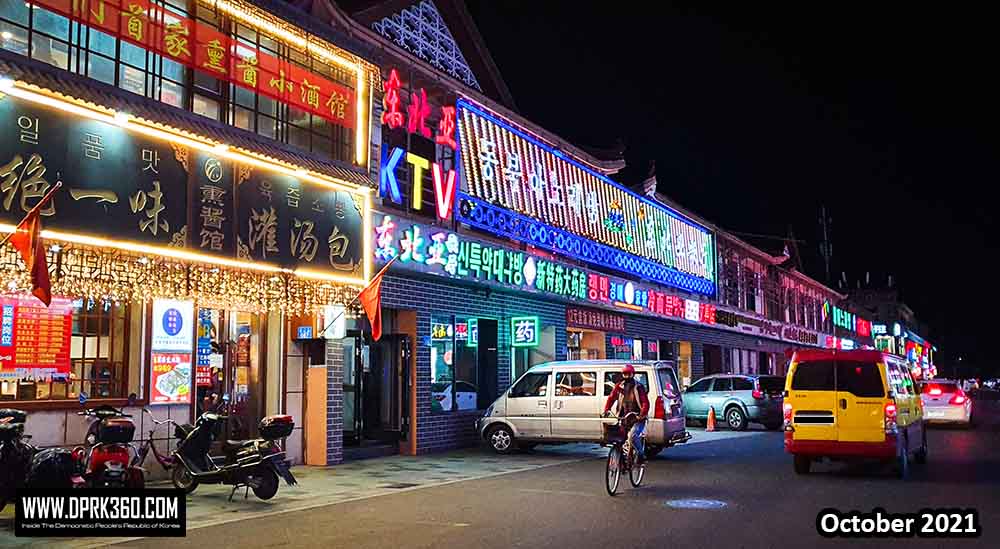 At night, the KTVs usually have the brightest and most colourful signboards.
---
---
Local Cuisine
There's plenty to eat around Tumen and food is mainly a fusion of Chinese and Korean dishes.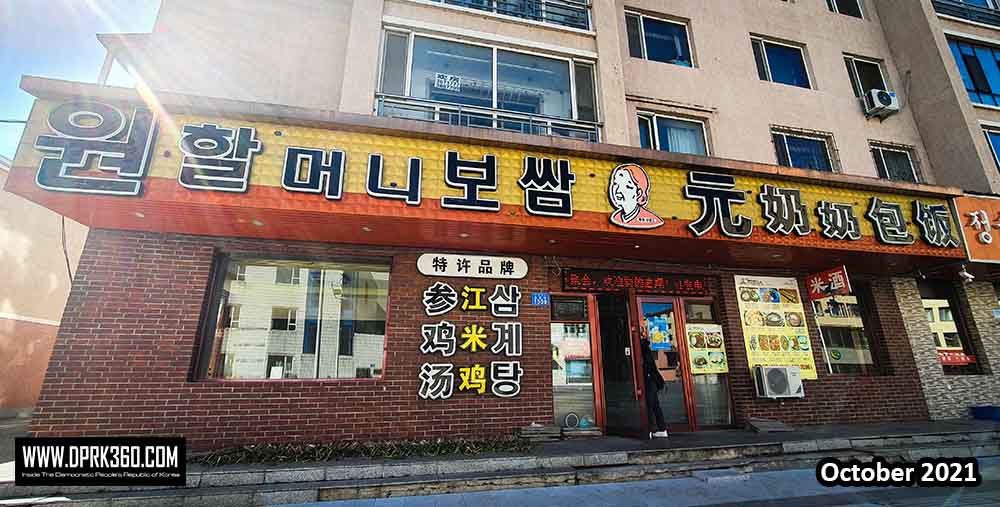 This is a popular restaurant serving Korean food that has outlets in many areas of the Yanbian Korean Autonomous Prefecture.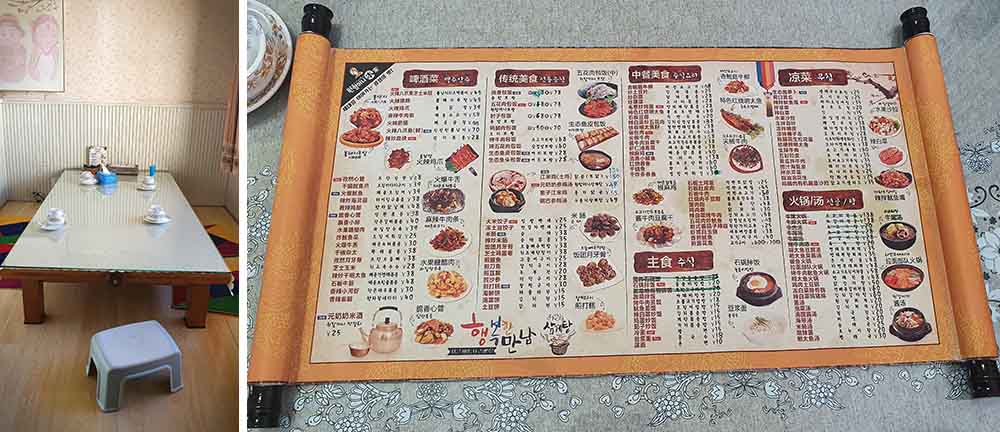 Inside the restaurant, small stools are provided for those not accustomed to sitting cross-legged on the floor in typical Korean style. The menu is presented as a traditional scroll.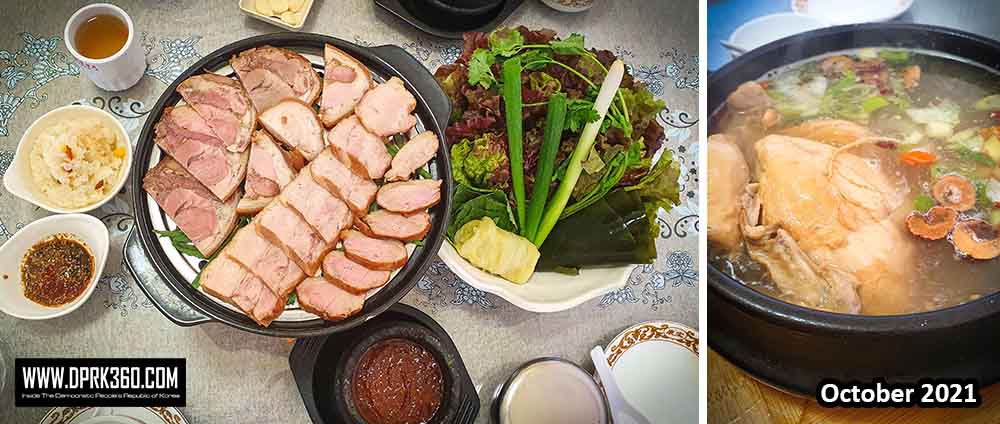 We ate a Korean cuisine in which leafy vegetables are used to wrap pieces of meat and glutinous rice. We also had the ginseng chicken, which is a very popular dish. 😋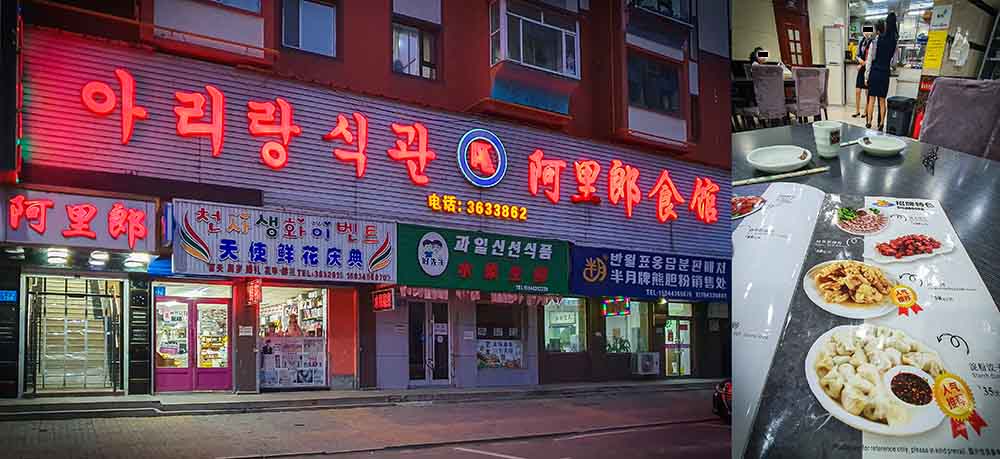 We also ate at Arirang Restaurant – One of a few restaurants that hire waitresses from the DPRK. The DPRK waitresses were very fluent in Chinese and gave us very warm service.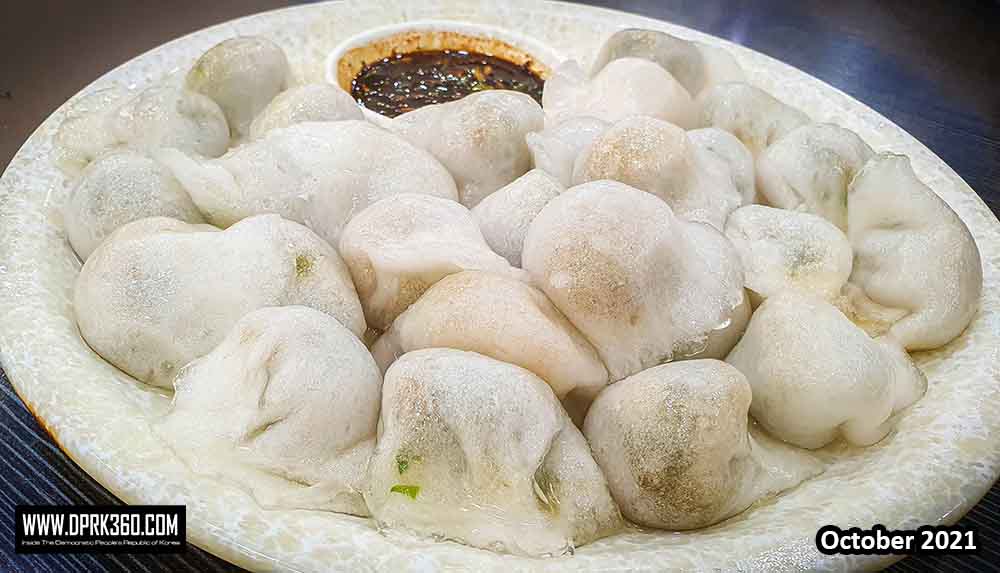 It costs RMB 35 (US$ 5.40) for a large plate of starch dumplings with meat and vegetable fillings. These were really good ! ! ! 😋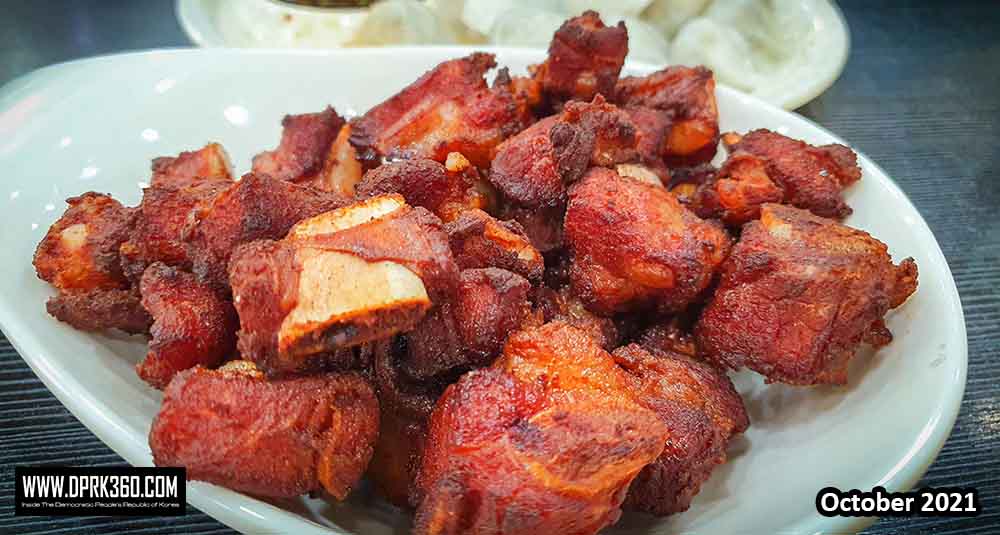 RMB 68 (US$10.60) for a plate of "Arirang Spare Ribs". This dish was also pretty decent. 😋 We would definitely eat here again.
---
---
Walk Along The Tumen River
Before COVID-19, anyone could walk freely up to the Tumen riverbank to take photos. Nowadays with strict measures in place, Razor wire coils have sealed off the entire river.
Google Maps: 42°57'33.6″N 129°50'59.6″E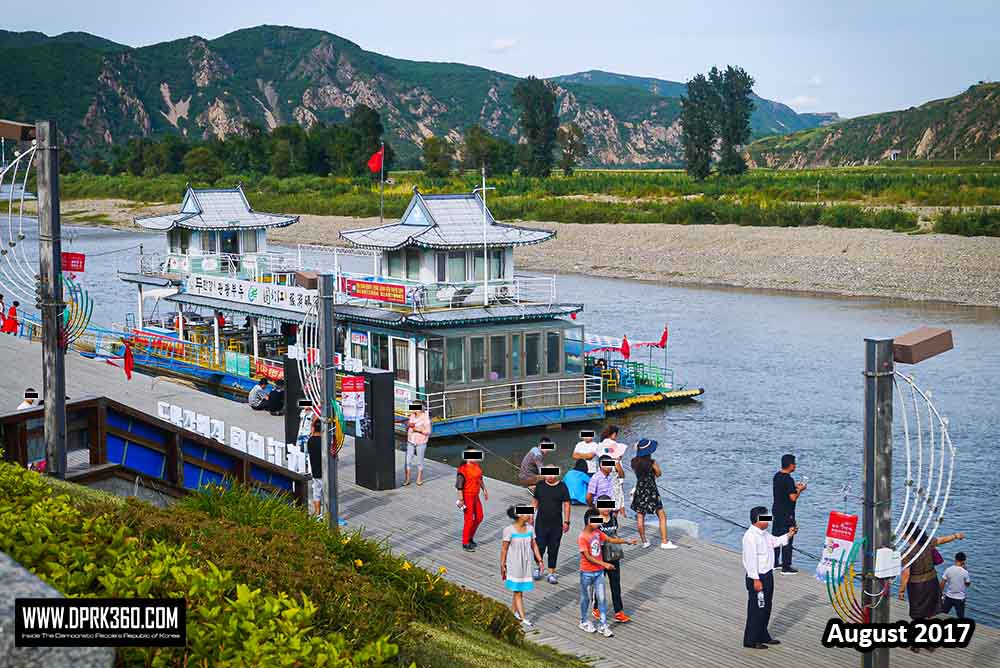 Archival photo of the same location captured in August 2017. Sometime between 2015 to 2017, the DPRK cleared up the thick vegetation along their riverbanks. This makes it much easier for their guards to monitor the river.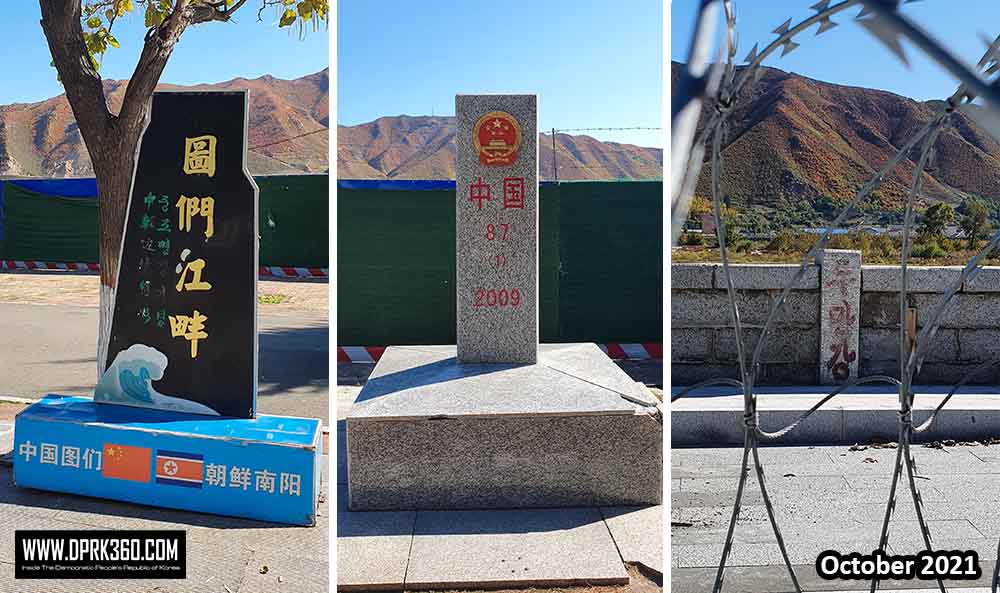 Before COVID-19, the pathway along the river was not boarded up and one could see across the Tumen River clearly. These used to be great photo spots. The grey granite tablets (center photo) along the pathway marks China's borders. The Korean characters on the left photo is "Tumen River".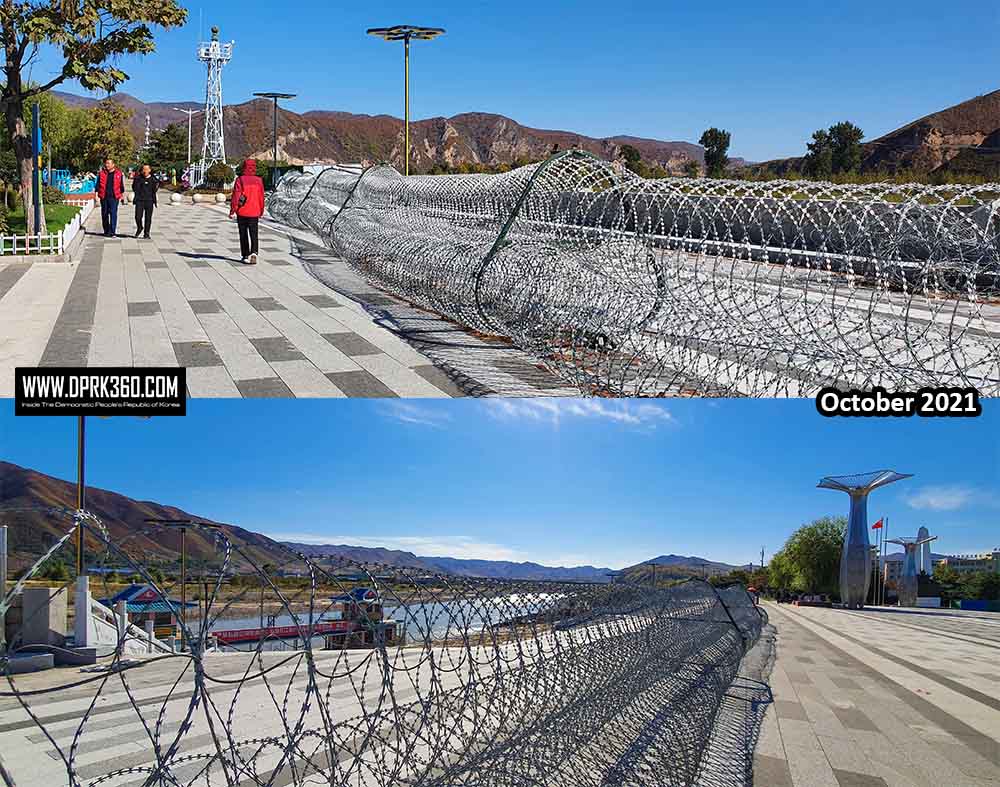 The long stretches of razor wire makes the place look scary and dangerous. But actually nobody feels that way here.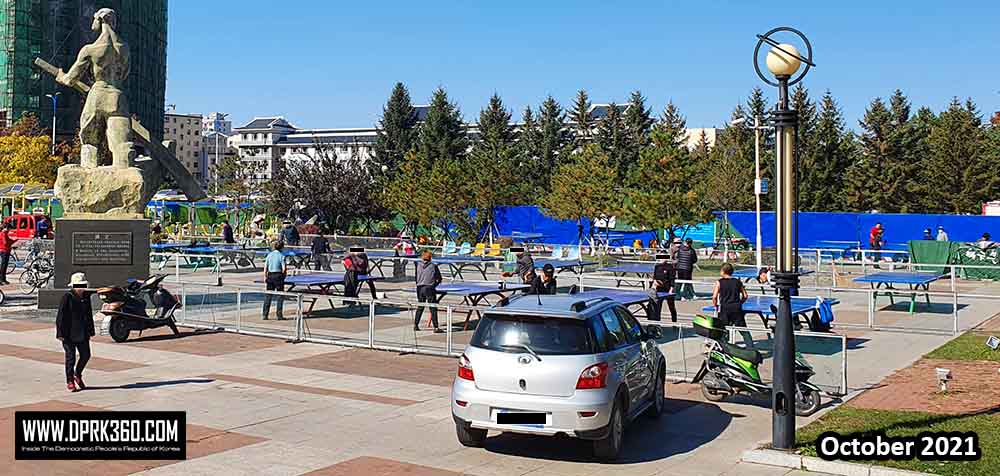 Next to the riverbank, people carry on with their lives as usual. Here you can see local residents playing table tennis outdoor in the cool weather.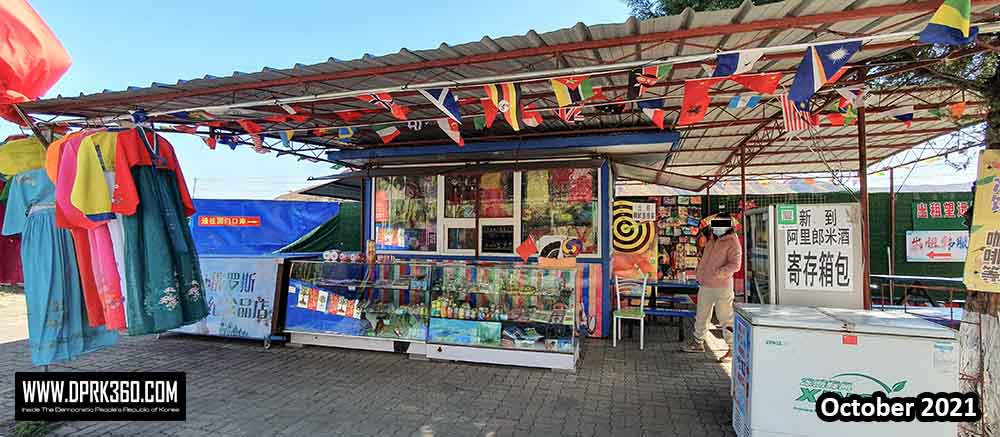 On the pathway leading to the Tumen Bridge, there are a couple of souvenir shops selling DPRK and Russian souvenirs. One can also rent Korean ethnic clothing for photo taking. While it was a quiet morning when we were there, the shop owner said that crowds were plentiful during the holidays.
Around town, near the Tumen River, there are also souvenir shops. We went to take a look at one to see what they have on sale.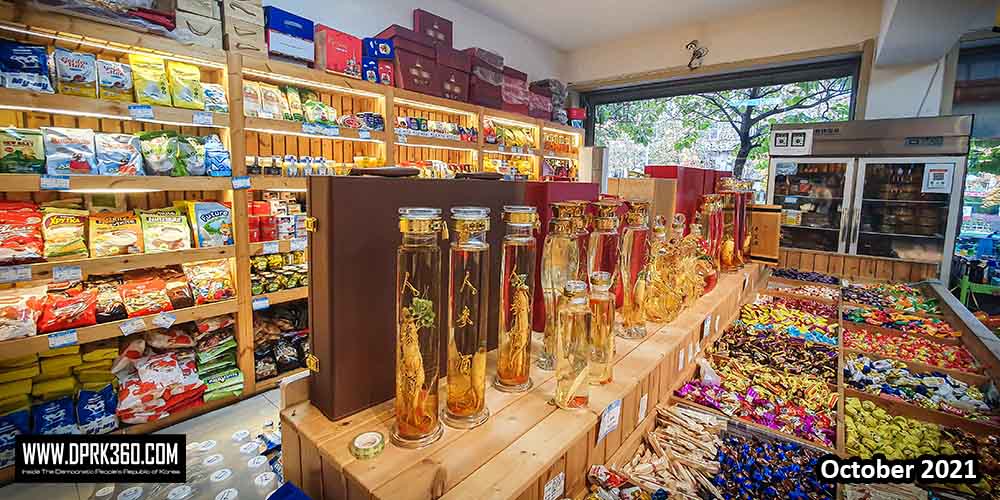 Here is a look inside a souvenir shop that sells DPRK and Russian souvenirs. The glass bottles supposedly contain ginseng from the DPRK. This shop also sold Russian biscuits, chocolates and alcohol.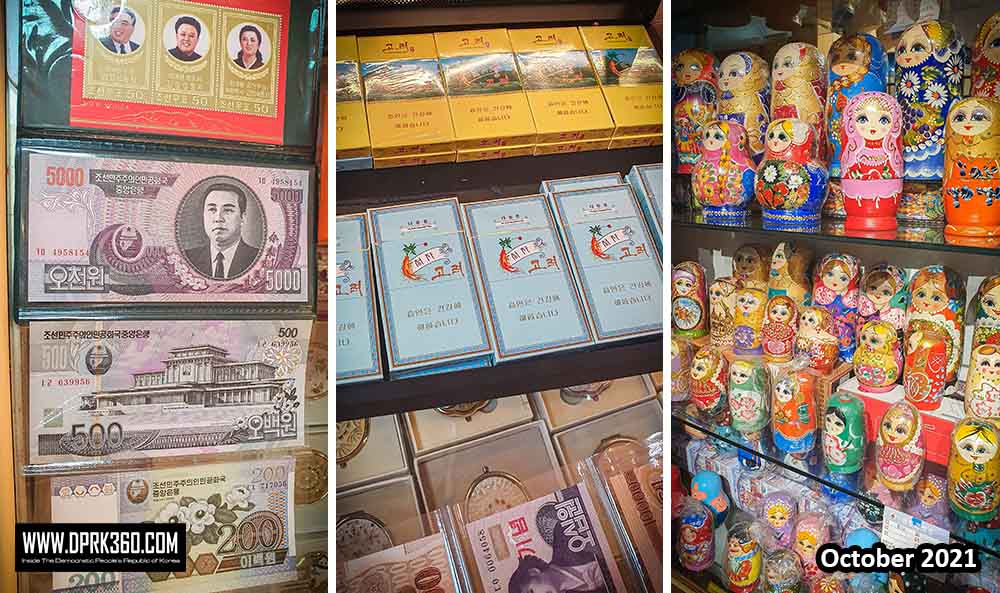 As we had anticipated, DPRK money was sold in this shop. It costs RMB 25 (US$3.90) for a pack of DPRK cigarettes. Despite being displayed so openly, we were told that the cigarettes were smuggled into China. We were unable to verify this.
The photo on the right shows Russian Matryoshka dolls on sale. While Tumen does not share a border with Russia, it is near the city of Hunchun through which, one could reach Russia. Souvenir shops in Tumen no longer openly sell fake pins of the DPRK leaders after China banned their sales. However there are still a few shrewd individuals in China who sell them online.
---
---
Tumen River Bridge
The Tumen River Bridge is now the only way to get close to the DPRK, but you can only go about 1/4 the length of the bridge.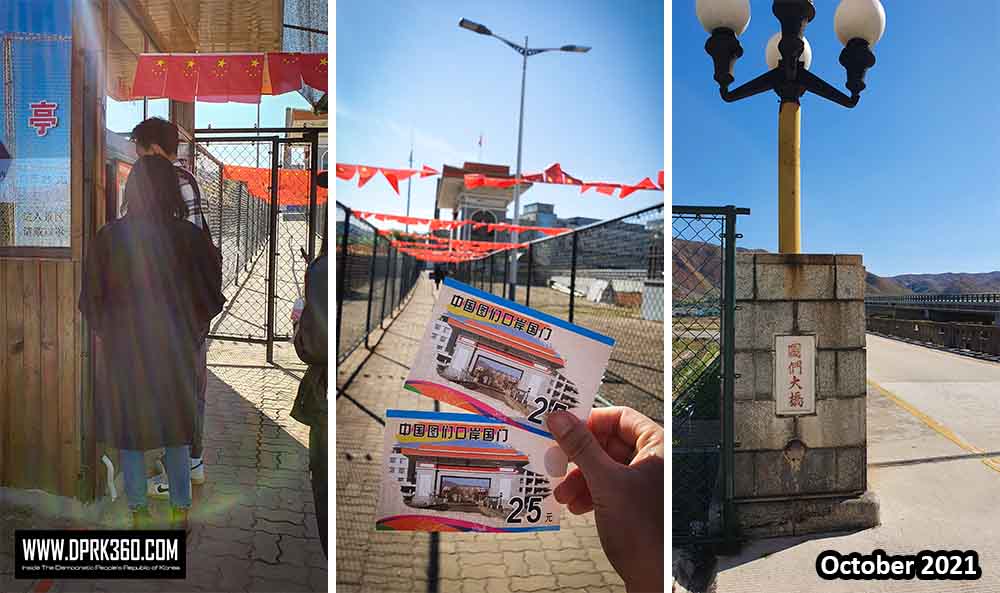 A ticket onto this bridge costs RMB 25 (US$3.90) and foreigners are no longer allowed on the bridge. Only local Chinese are allowed now.
Standing on the bridge and looking back, one can see the Tumen Border Gate. Before COVID-19, it was possible to walk up to the roof of the border gate building where binoculars were provided for viewing. However, it is no longer open to visitors. The white building on the right is the Chinese immigration and customs building.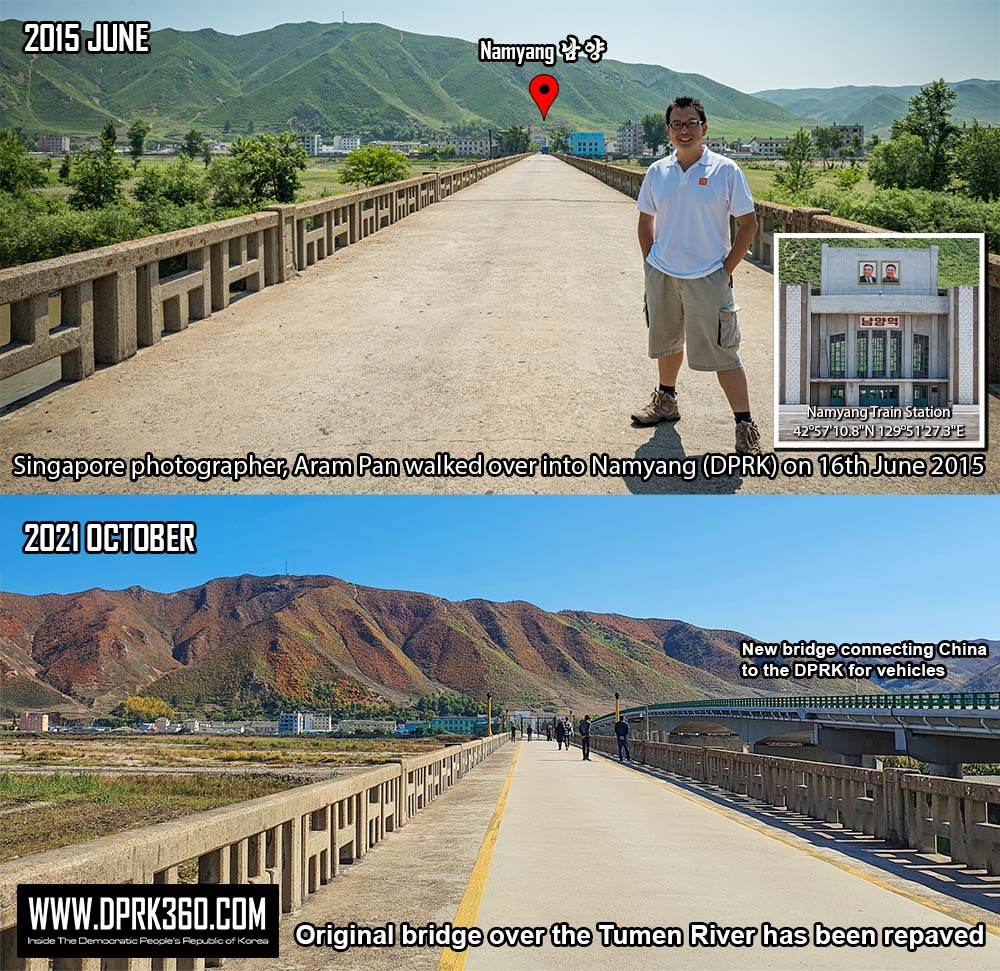 In 2015, Singaporean photographer, Aram Pan walked across into the DPRK as a foreign tourist holding a Singapore passport. Back then it was possible to do so. Nowadays, foreigners are not even allowed onto this bridge anymore. A new bridge running parallel to the old bridge was completed before the COVID-19 pandemic. The Chinese side has also cleared away most of the dense vegetation along this part of the border to make it easier to monitor for any illegal border crossings.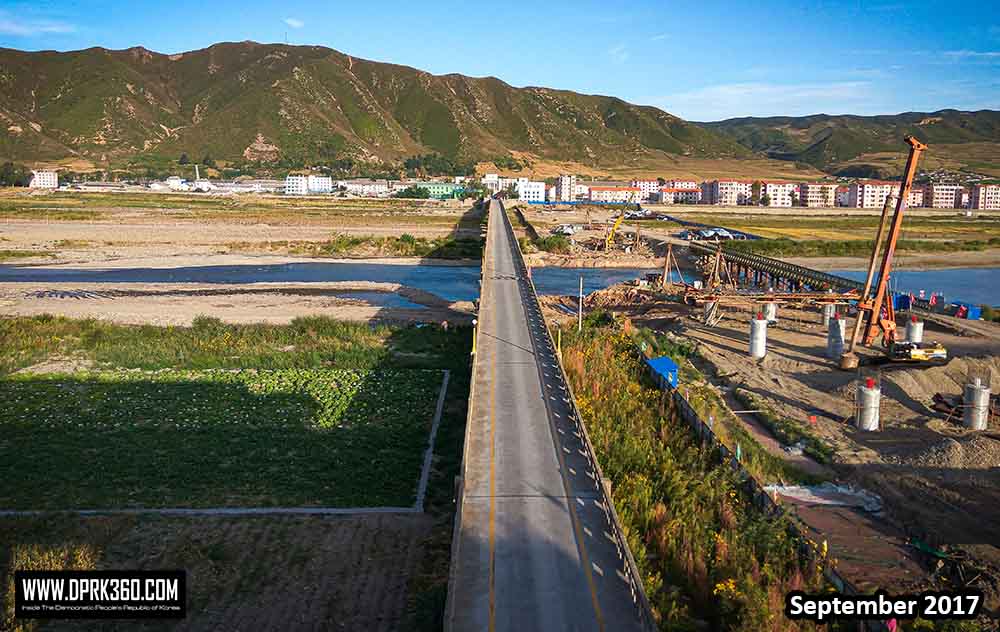 Here is an archival photo of the new bridge to DPRK being constructed by China, photographed in September of 2017.

Today, at the boundary line separating China and the DPRK, a metal fence has been installed. Before COVID-19, there was no fence and one could see tour groups of Chinese crossing over and DPRK citizens walking across as well. However, since the borders have shut, tours to the DPRK have stopped and all is quiet on the DPRK side of the bridge.
Google Maps: 42°57'18.2″N 129°50'57.5″E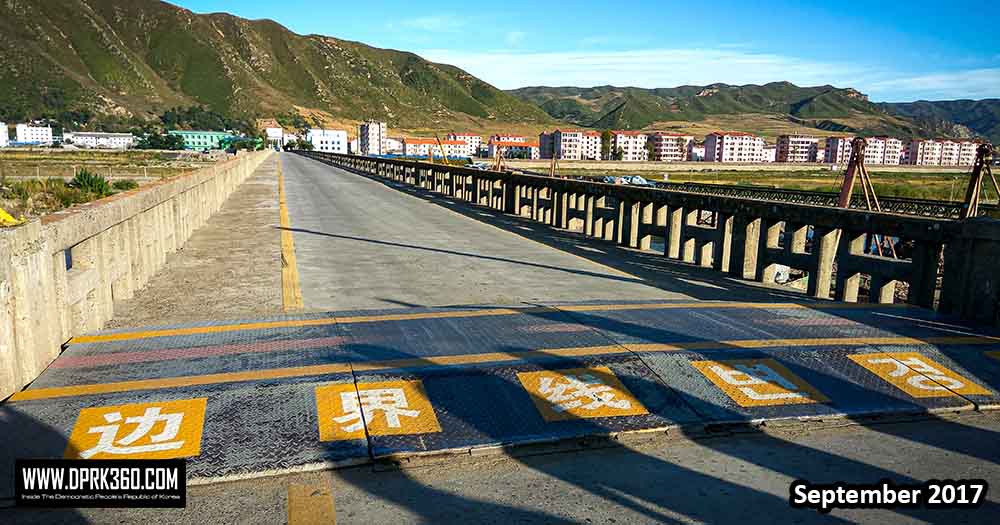 Compare to an archival photo of the exact same location seen in September 2017. There wasn't any fence before COVID-19

One can see a building in the background. That is the Namyang Train Station (left photo). A DPRK flag could be seen at the top. Previously there were two portraits of their leaders, which we were told were covered up as the building was being repainted. We were unable to verify this information. A red sign shown on the right photo prohibits one from climbing the fence or shouting.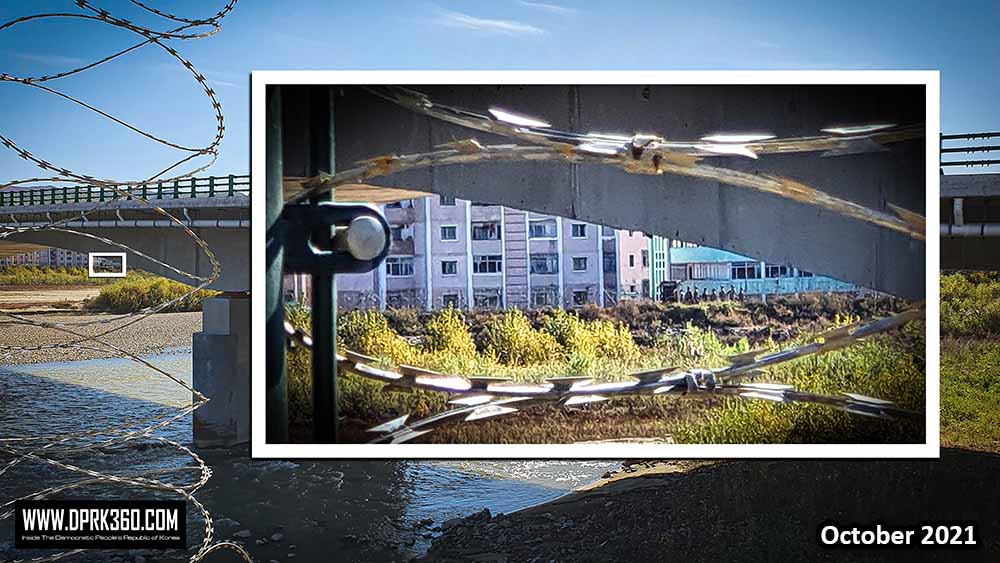 A guard house with soldiers on patrol can be seen on the DPRK side. Can you see them?

A panoramic view of the Tumen River from the bridge.
---
---
Elsewhere Around Tumen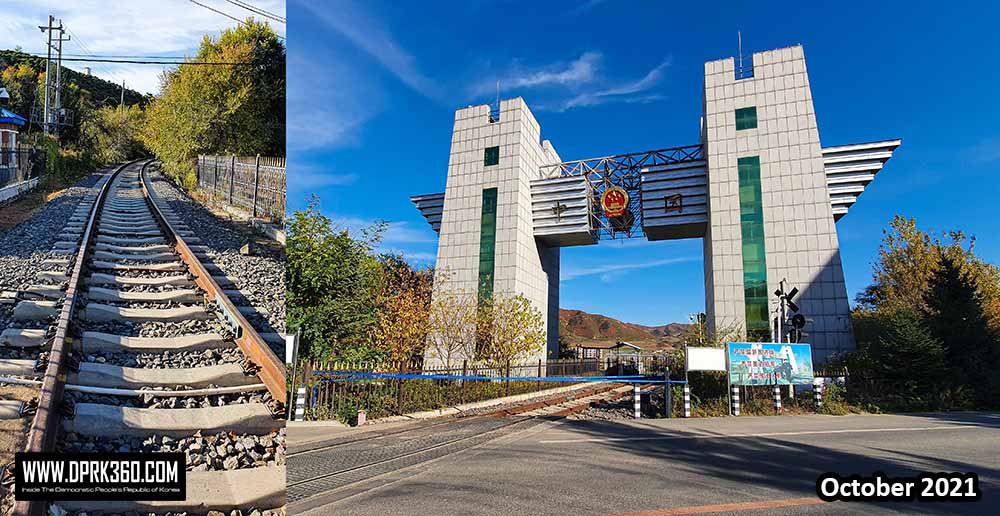 This is the China border gate for the railway track leading to the DPRK. We were told that the DPRK does not have such a gate over on their side. With borders closed, trains are no longer passing through and the tracks are cordoned off with a blue tape.
Google Maps: 42°56'58.7″N 129°50'48.4″E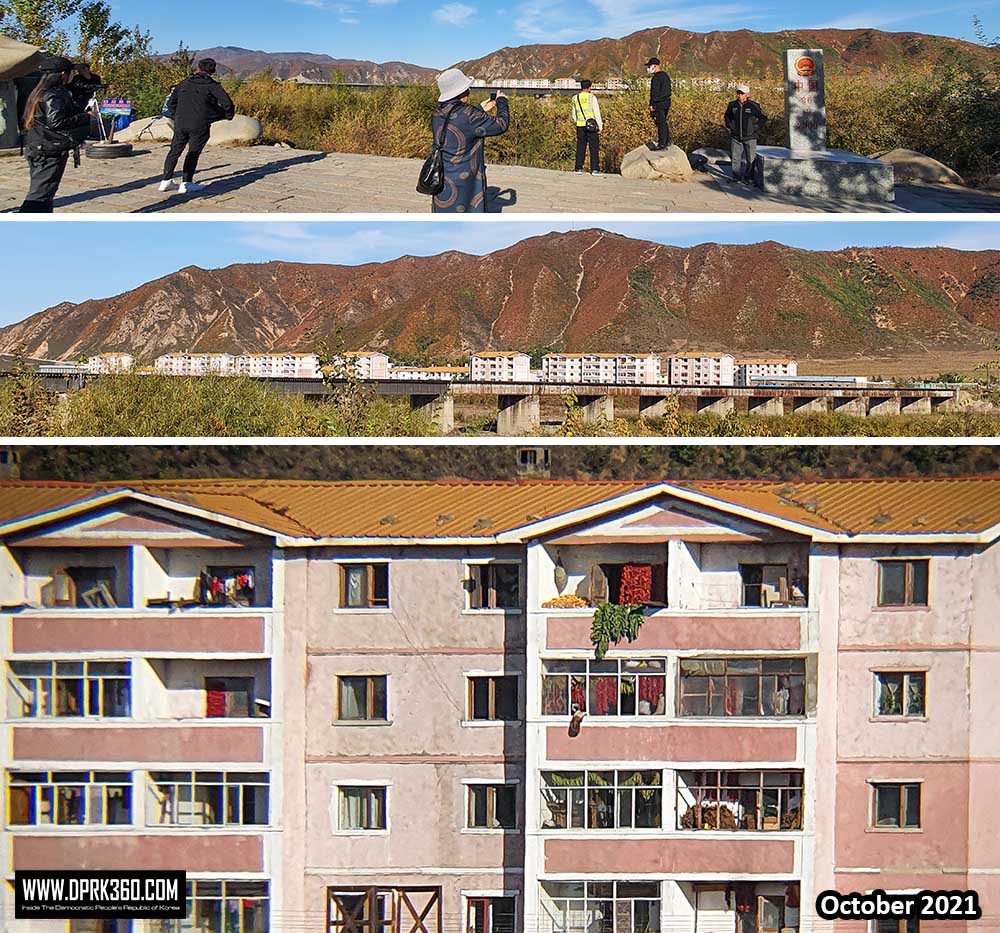 Further along the river, there are areas where one can have a good view of the towns in the DPRK. At such places, resourceful individuals set up stalls to rent binoculars and telescopes to help tourists zoom all the way up close. This incredibly detailed photo was taken simply by putting my mobile phone camera up to a pair of binoculars. I could see Korean houses drying corn and chili in the sun.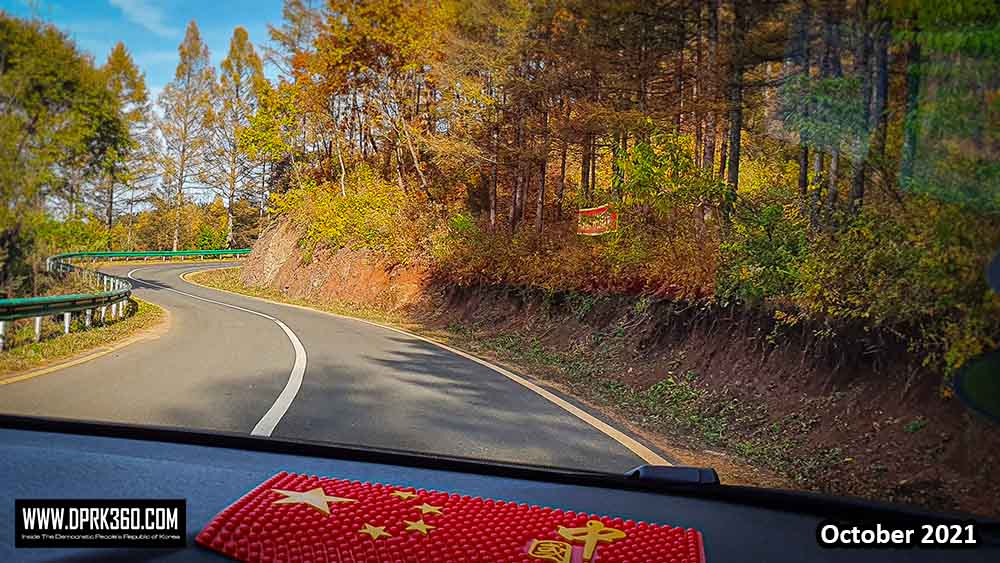 Another place we recommend to catch a good view of the DPRK is up on Ri Guang Shan (Sunshine Mountain) and you'll need a car to get there. It's quite a vast area and the views are absolutely worth it.
The narrow Tumen River separates our two countries. Some parts of the river are only 50 meters wide (164 feet). During the Winter, the river is frozen solid.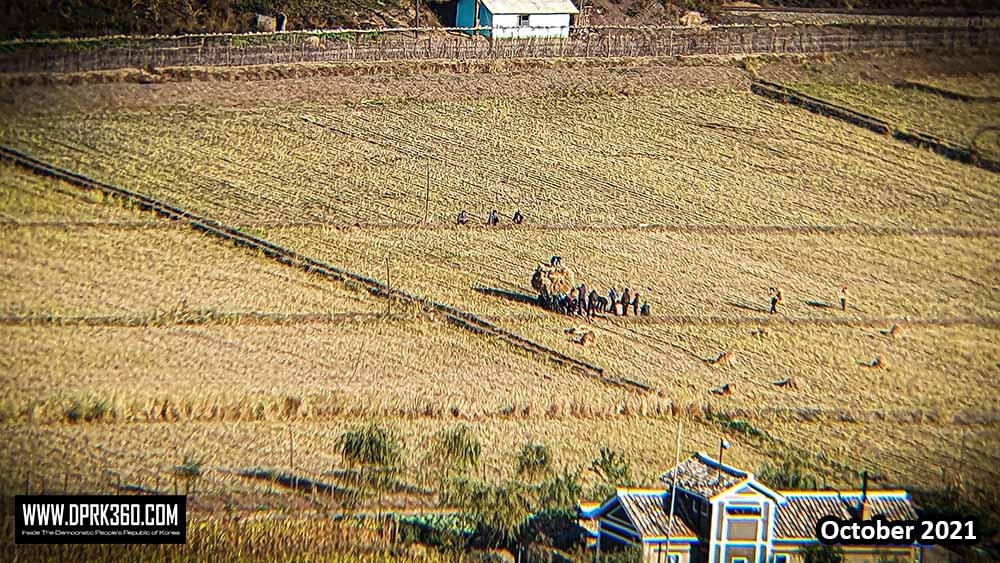 Across the Tumen River in the DPRK, we saw people harvesting the fields. Again we used our mobile phones with binoculars.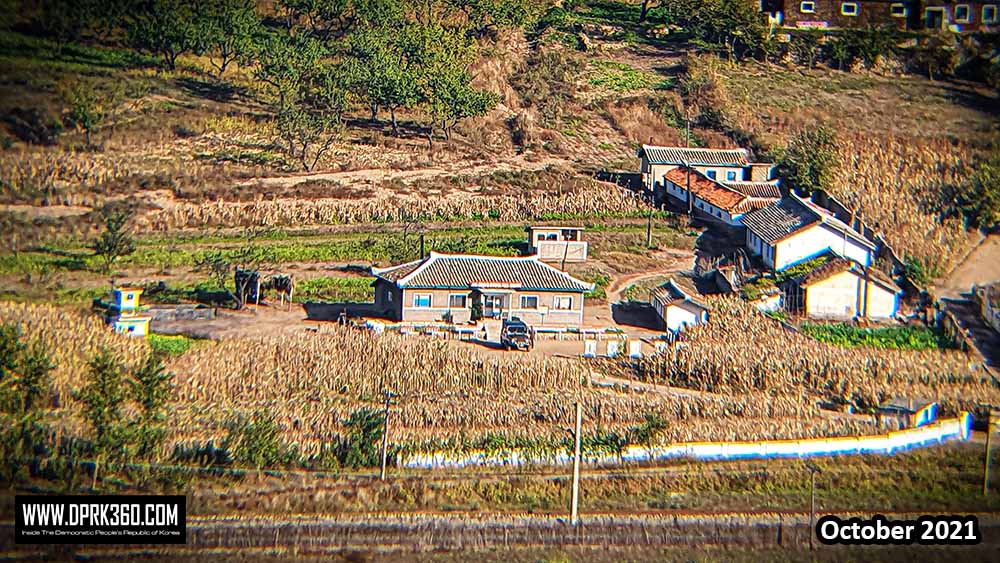 Korean villages can be seen very clearly.

Moving to another part of Ri Guang Shan, we got a breath-taking view of the Tumen River separating China and the DPRK. One could barely notice any difference between the two nations in this beautiful landscape during the middle of the autumn season.
A local pointed out an interesting observation where the DPRK hills across the Tumen River looks like an outstretched hand with five fingers pointing towards our direction. Can you see it?

Driving down from Ri Guang Shan area, one could see perimeter fences everywhere.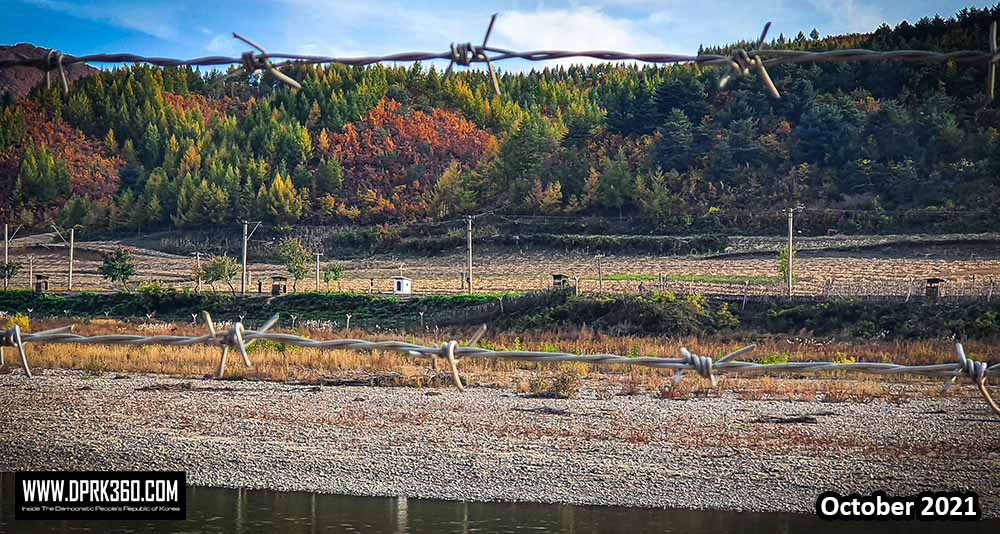 At areas where the Tumen River is very shallow or narrow, one can see high numbers of guard posts on the DPRK side. Along some of these parts, it seems like each guard post is only 50 meters (164 feet) from each other. Soldiers could be seen moving around inside or near every post. Wow! So many people deployed just to guard the border.
China does not need to deploy so many soldiers for border security as we implement high tech cameras throughout our borders.
---
---
Minhye's Final Thoughts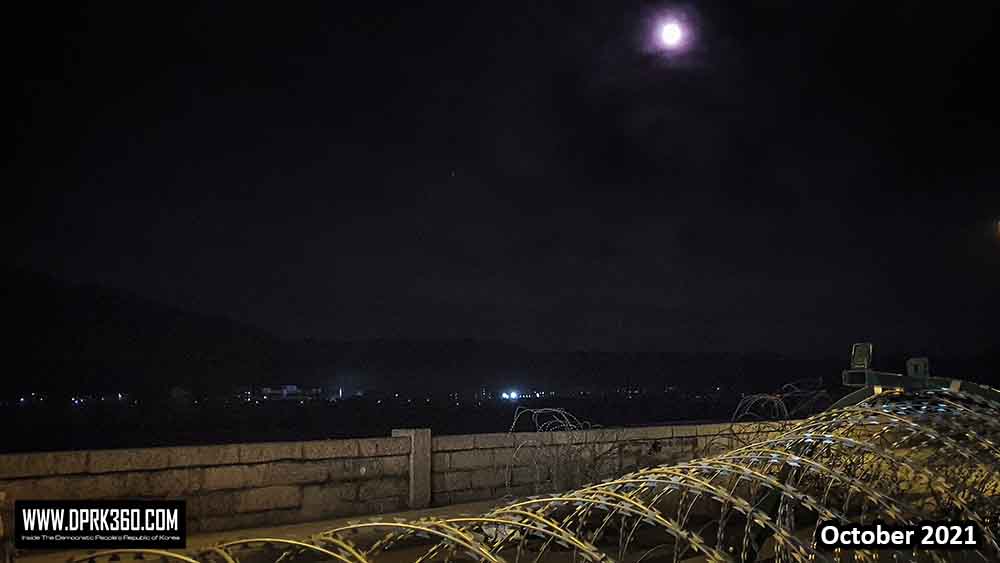 After we toured around Changbai in September and Tumen in October, I noticed many similarities between these two towns. Both were small, quiet border towns with Chinese and Korean words everywhere and similar cuisine of Chinese and Korean dishes in restaurants. Strolling along both rivers, one could easily spot military guards across while surveillance cameras dotted the Chinese side. As night fell, both Chinese towns lit up with bright lights while it was relatively darker and peaceful across the river.
Although both Changbai and Tumen are part of the Changbai Korean Autonomous County and Yanbian Korean Autonomous Prefecture respectively, one clearly gets a sense that there is a larger ethnic Korean population in Tumen compared to Changbai. Almost half the population in Tumen are ethnic Koreans compared to less than 20% in Changbai.
While tours to the DPRK are no longer offered due to border closures in COVID-19 times, both towns still see domestic tourists curious about the borders of the motherland. It is my hope that through my sharing, DPRK 360 website readers would gain a better understanding of the border towns and it is not my desire that anyone should take any offence with what I have shared.
I am anticipating the day when borders reopen and tourism resumes. Then we could cross the river to see for ourselves what it is like across the bridge.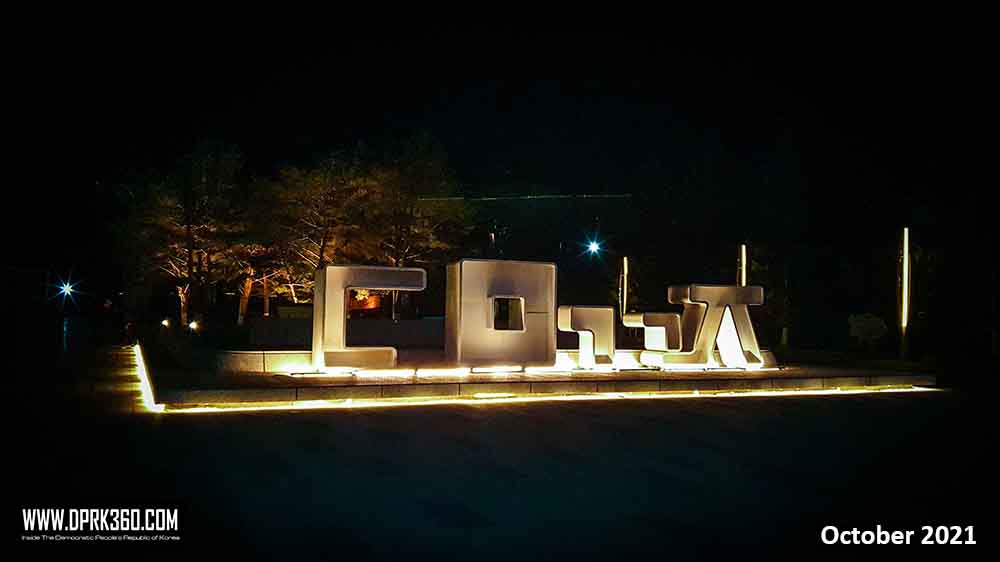 In case you missed it, check out Part 1 where Minhye visited Changbai: https://dprk360.com/inside-north-korea/china-dprk-border-towns-during-the-covid-pandemic-part-1-changbai/2800/
---
---