China-DPRK Border Towns During The Covid Pandemic (PART 1 – Changbai)
Article translated to English from our local Chinese resident contributor, Minhye
Since January 2020, the DPRK has shut its borders due to the COVID-19 virus. China has also implemented strict border controls to maintain their zero-COVID strategy. It has been almost two years since tourism halted between these two friendly neighbours. With no more tours to the DPRK being offered, what is life and tourism like in the Chinese border towns during such times? Our resident contributor made recent trips to visit border towns along the Yalu River and Tumen River. Join Minhye on her journey as she explores the Changbai Korean Autonomous County.
---
---
Changbai – September 2021
On a certain weekend in September 2021, we headed to Changbai Korean Autonomous County, a small border town in southern Jilin Province that faces Hyesan. (Hyesan is a city in the northern part of Ryanggang province in the DPRK)
SEPTEMBER 2021 – Changbai Korean Autonomous County (长白朝鲜族自治县)
Google Maps: 41°24'57.2″N 128°11'33.4″E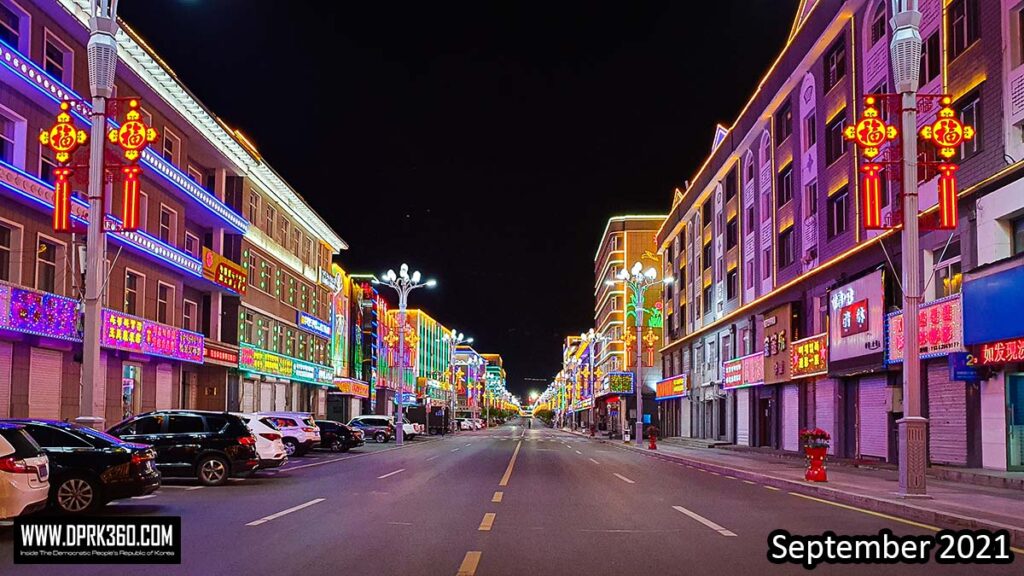 Standing in the middle of the main streets in Changbai and looking both ways. The streets are mostly empty by 9pm during the COVID-19 pandemic. They used to be much livelier with lots of people moving around during this time.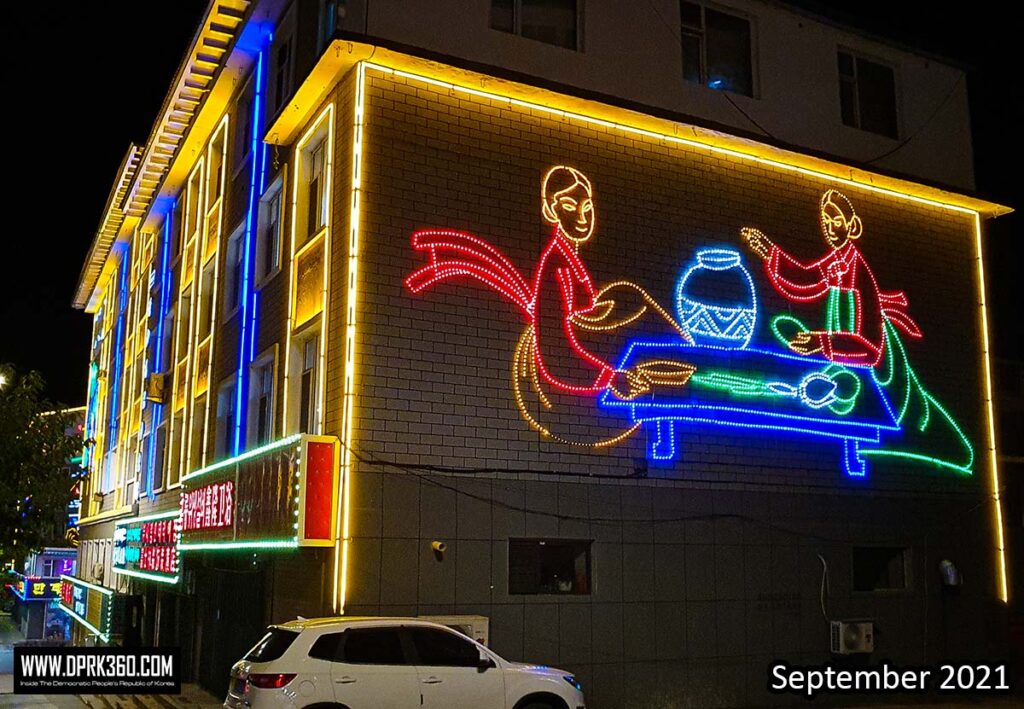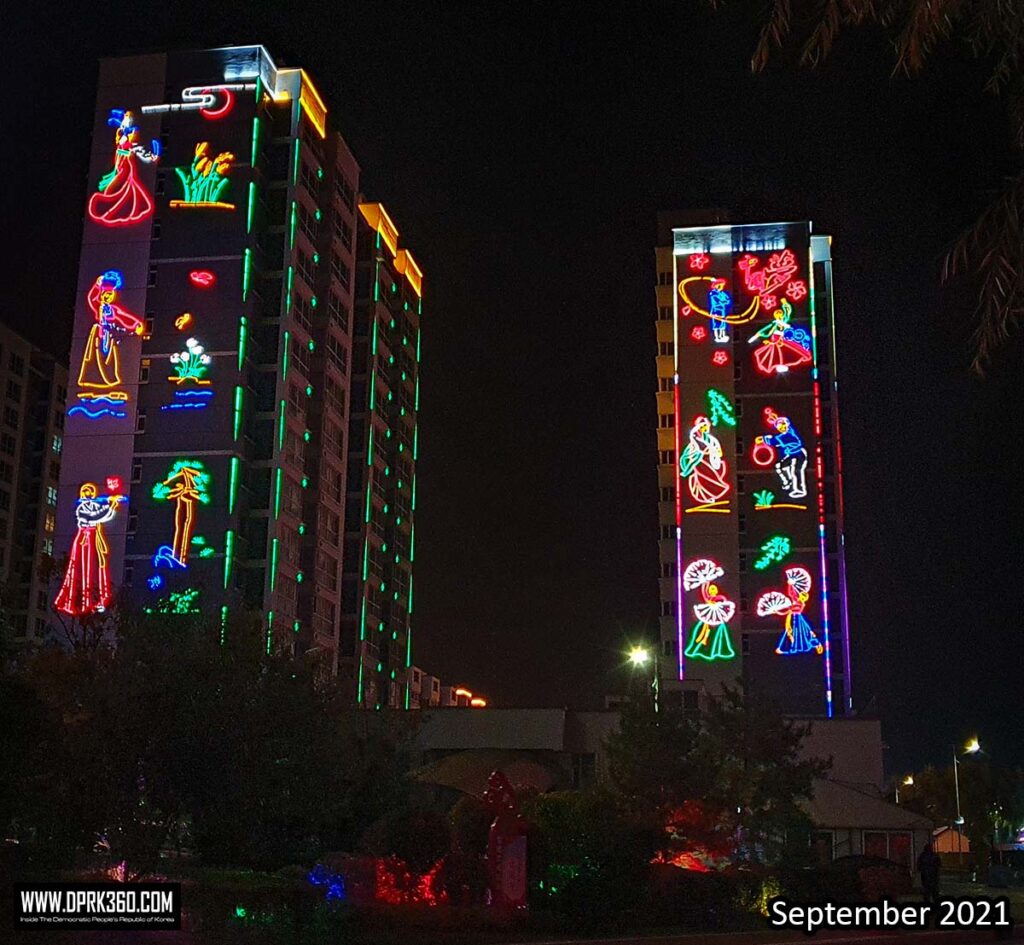 Neon and LED lights are seen surrounding almost all buildings in Changbai, with many depicting Korean-Chinese culture on the outside walls.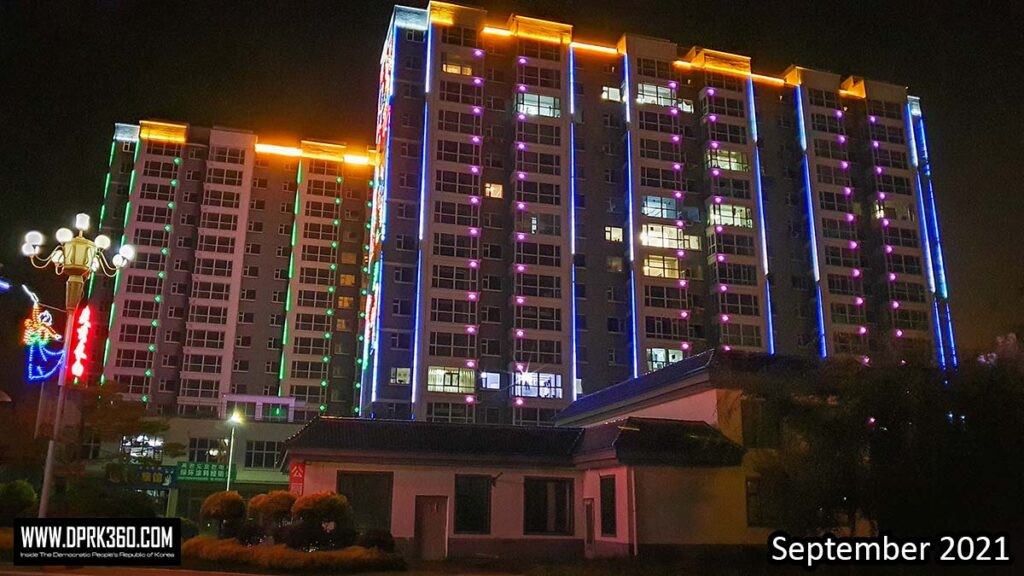 These lights make the town look really bright and lovely. Taking a closer look, there's currently a lot of vacant apartments. This photo was taken at 8:30pm, a time when many people would be home with the lights on. The dark windows show available apartments. Fancy getting a unit here to live?
All road signs and shop signboards are bilingual with Chinese and Korean texts as this town is part of a Korean Autonomous County in China.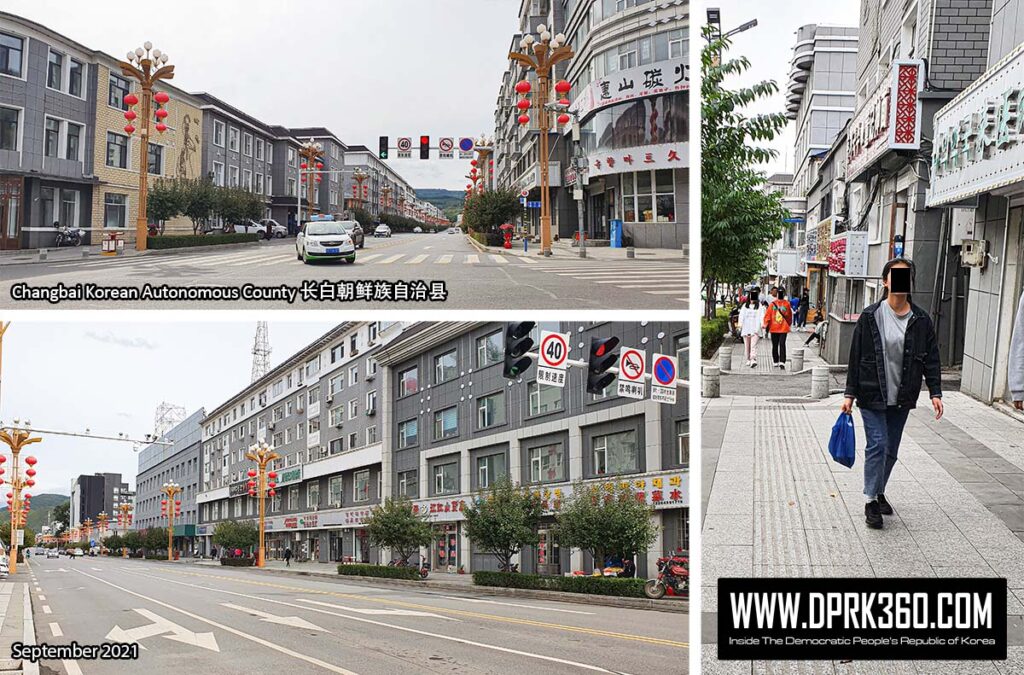 Here is a look at the main streets of Changbai during the day. China has been very successful at vaccination and controlling the COVID-19 virus so now most locals walk around freely without needing to wear masks. It's business as usual during the day.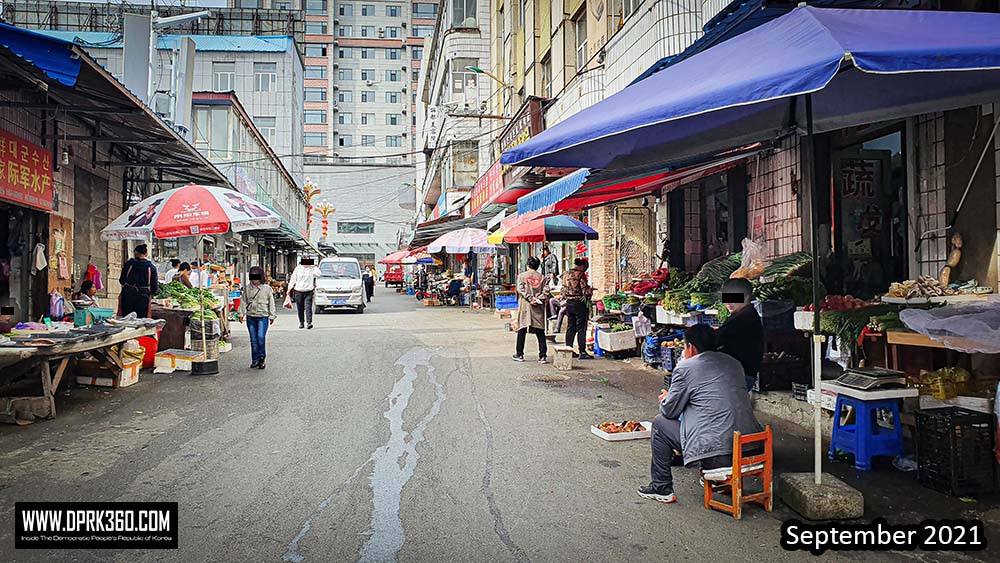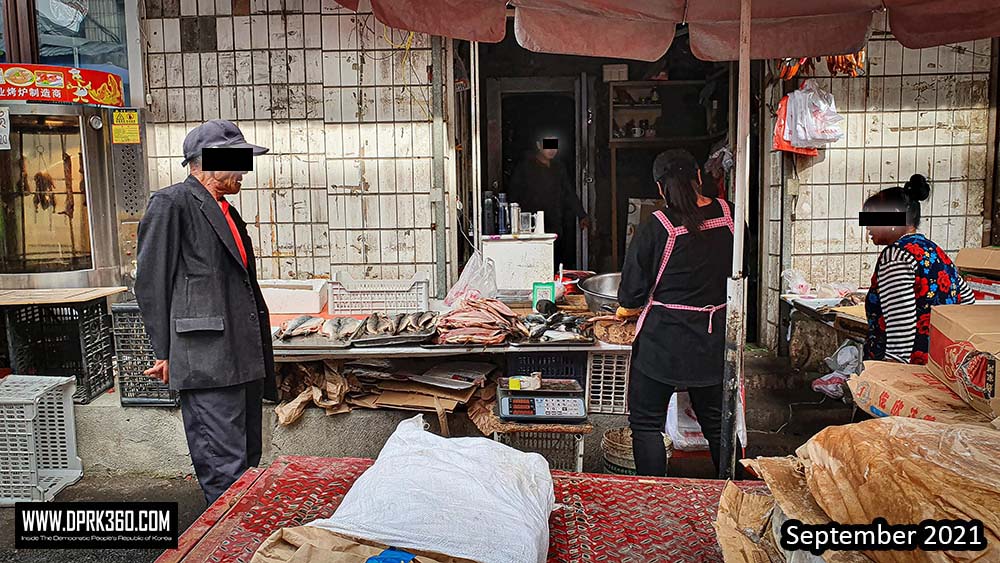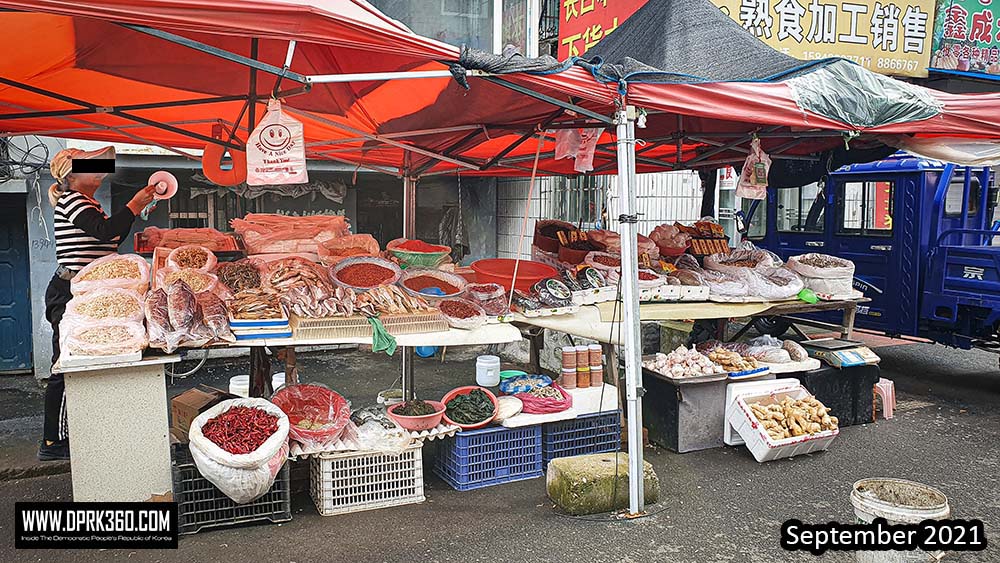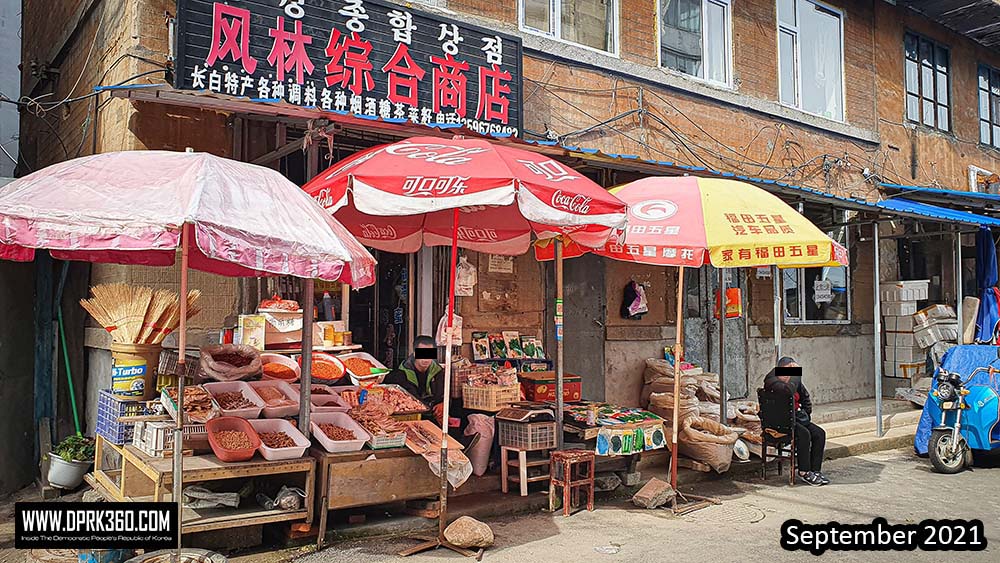 Changbai used to welcome many foreigners from western countries and South Koreans who come to see the border; but for now they only have domestic tourists. As of September 2021, there are already signs of economic recovery because of the internal tourism. A sign in the photo below indicates "full house" at the entrance of a hotel on a Saturday night as many locals now travel between provinces for tourism. One could expect many more travellers during the holidays, despite COVID-19 outbreaks happening in other parts of China.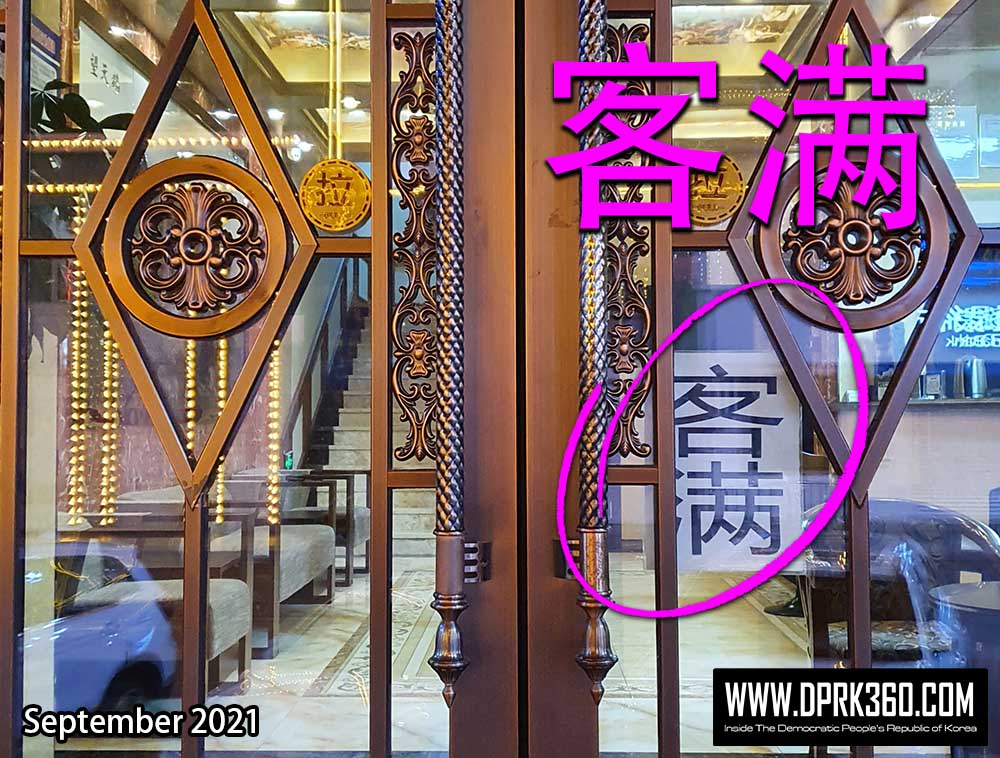 While streets were quiet with few cars and people, it was a different story in restaurants and eateries. With some parts of China still on high alert due to COVID-19, it felt like another world in this border town as life seemed to have resumed back to normal. We met a friendly traffic police officer who recommended several popular restaurants in Changbai, a few of which were also full house.
---
---
Trying Local Food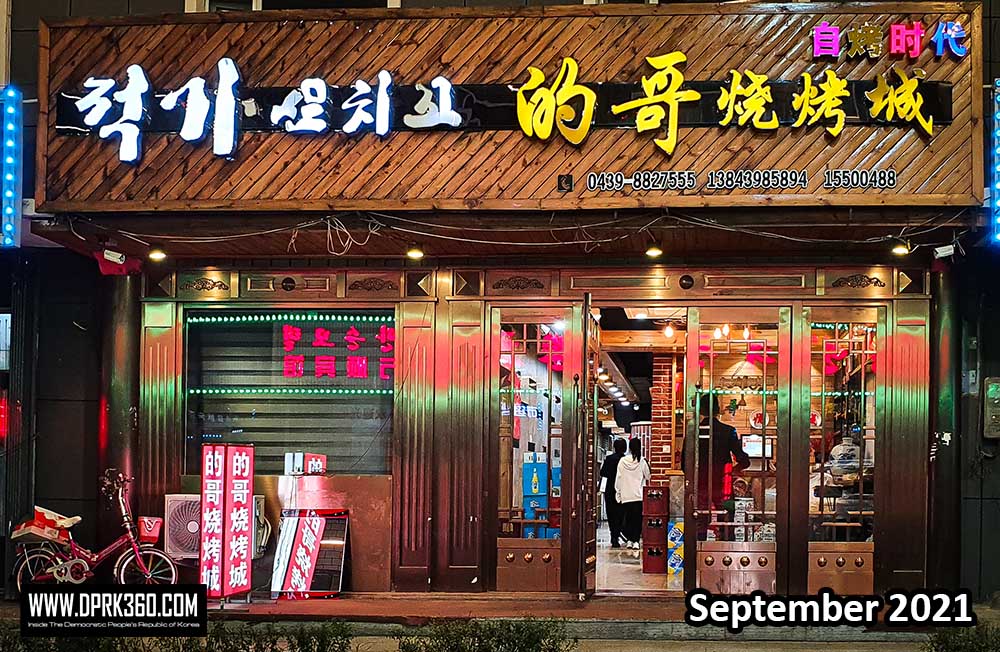 A good local BBQ restaurant. BBQ meat skewers are popular in North-eastern China.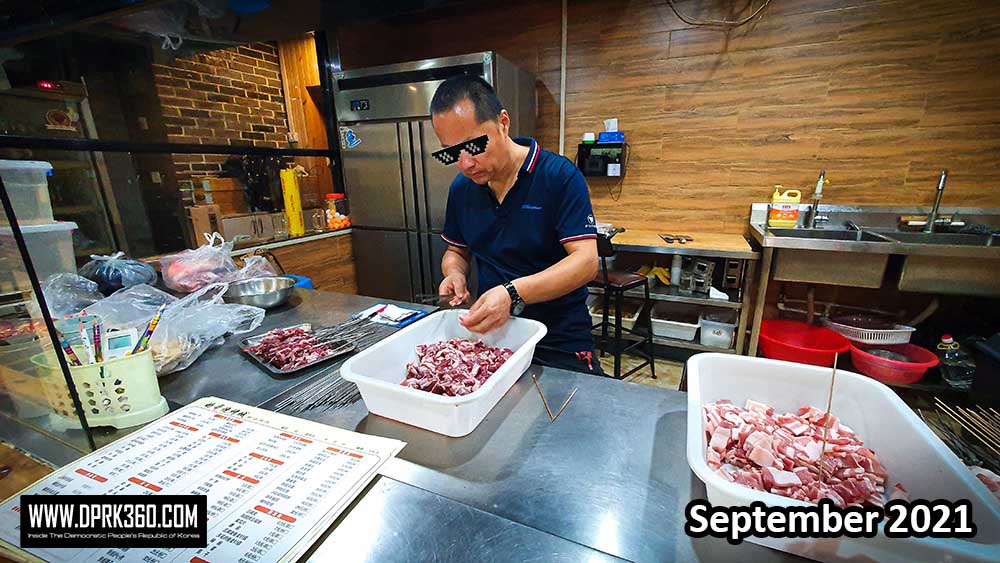 A kitchen staff quickly and skilfully preparing meat skewers like a boss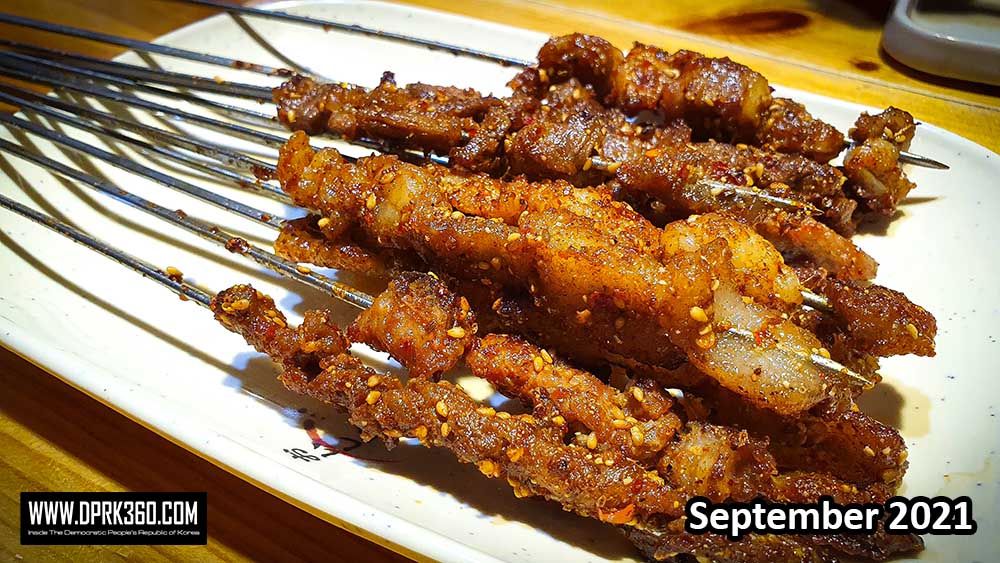 RMB 3 (US$0.50) for each stick of lamb skewer. Oh so delicious ! ! !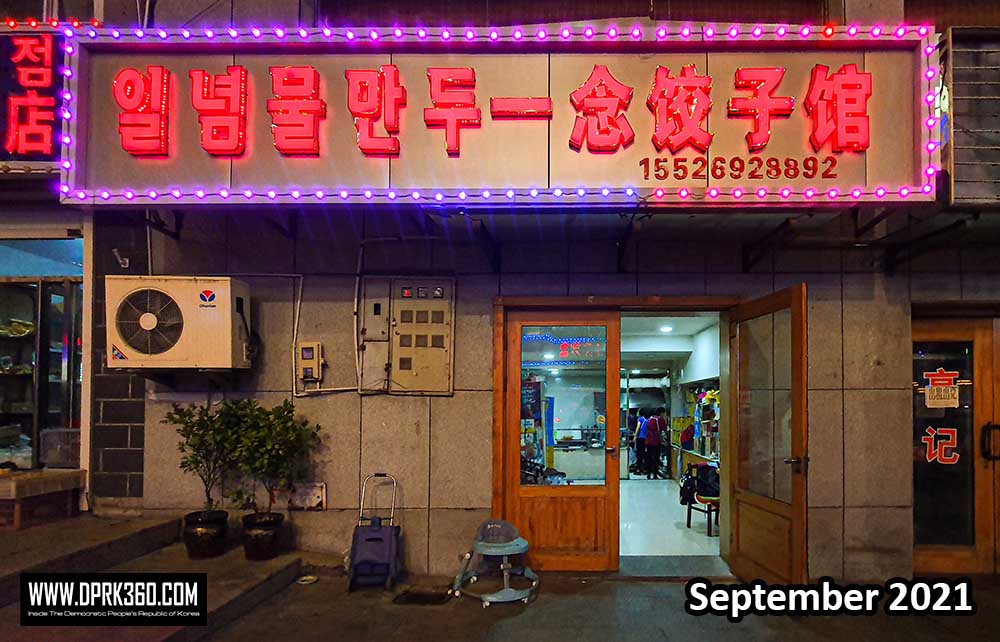 Dumpling restaurants are also ubiquitous, as northerners eat dumplings on all sorts of occasions.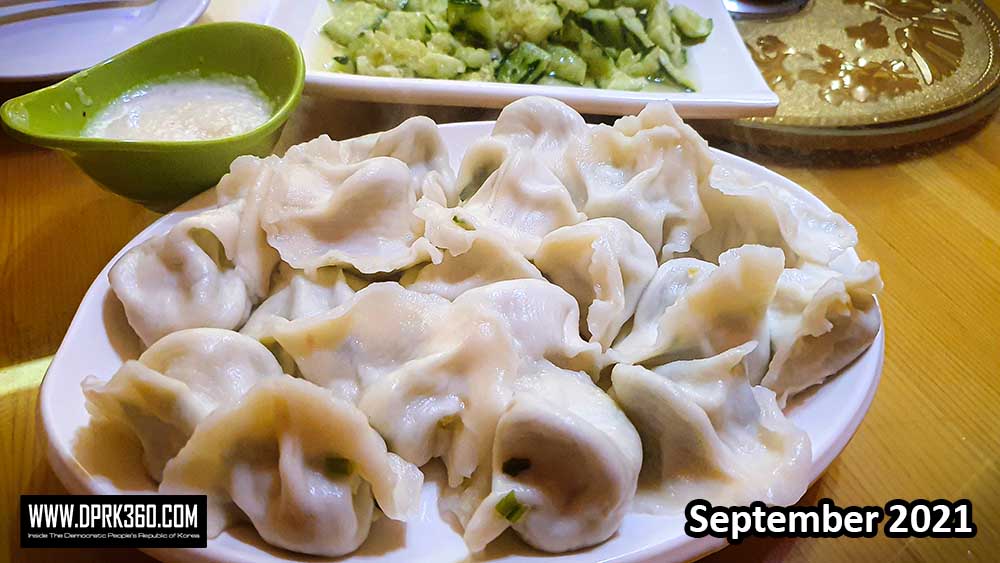 RMB 16 (US$2.50) for a plate of vegetarian dumplings. This is Chinese comfort food.
RMB 24 (US$3.75) for fried dumplings with beef and carrots fillings. Goes well with added chilli.
Many restaurants in Changbai offer rooms with floor seating, Korean style !
We tried this popular restaurant in Changbai known for cold noodles and dog meat.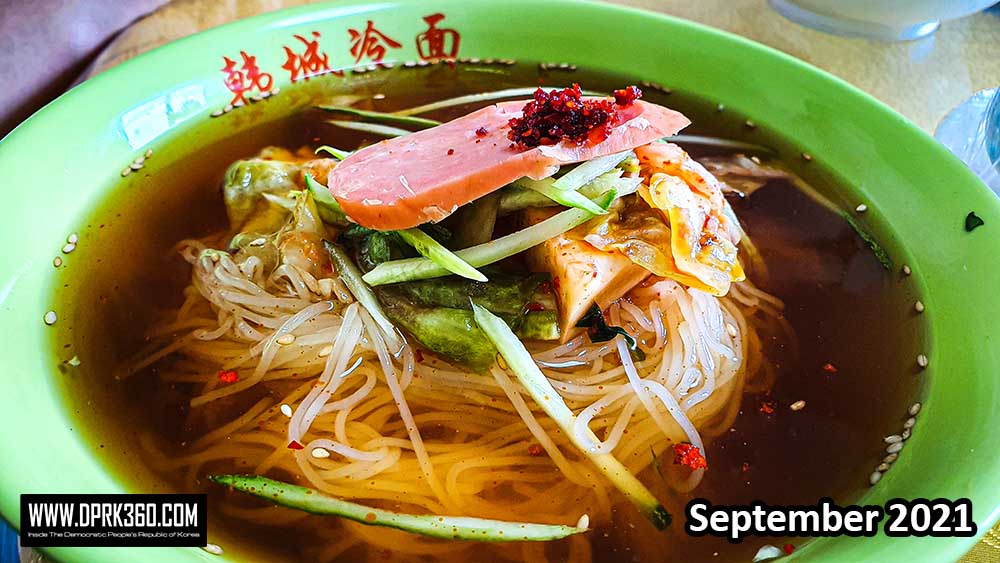 They serve a fusion Korean-Chinese style of cold noodles.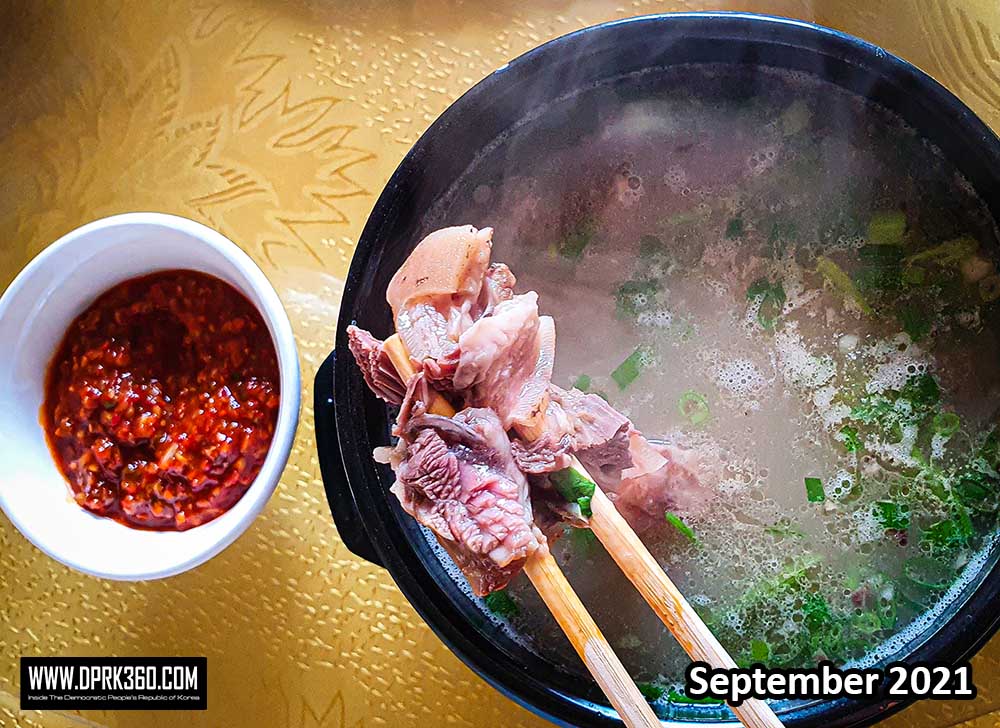 This is dog meat soup. While younger generations may not patronise such restaurants, this dish is still very popular among the older generations here, especially among the Korean-Chinese. The texture is like beef, but the taste has a little resemblance to lamb.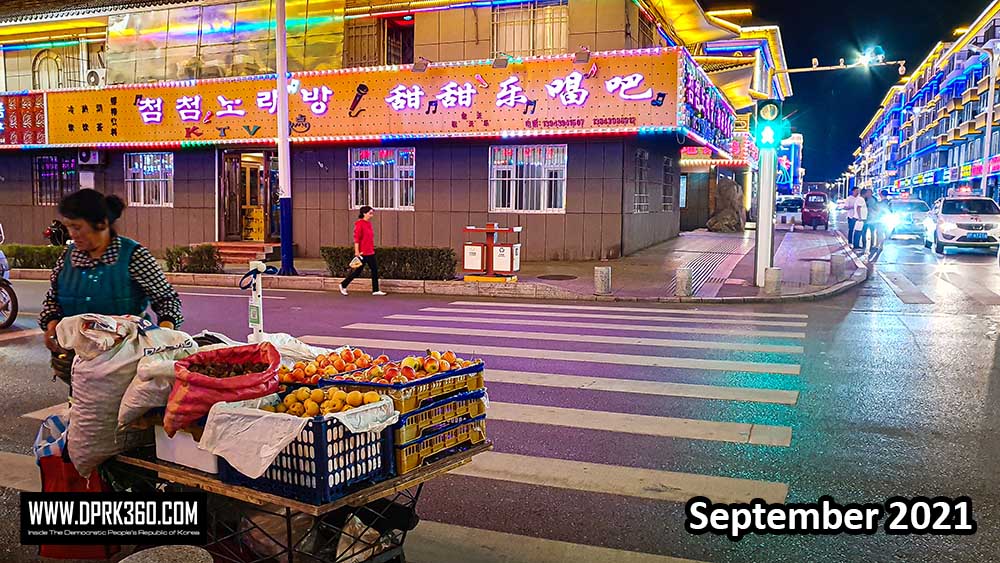 Unlike other border towns, Changbai did not seem to have any DPRK-operated restaurants nor Chinese-owned restaurants that hired waitresses from the DPRK as seen in Dandong or Tumen. Maybe there were… but I did not see any, even after walking around.
---
---
Along the Yalu River
With borders closed on both sides of the Yalu River, tours to the DPRK are no longer being offered. However, many Chinese domestic tourists could be seen along the river taking photos and conversations about the DPRK could be overheard. Many were on self-driving road trips from the three North-eastern provinces of Jilin, Liaoning and Heilongjiang. Several caravans could be seen parked near the riverside.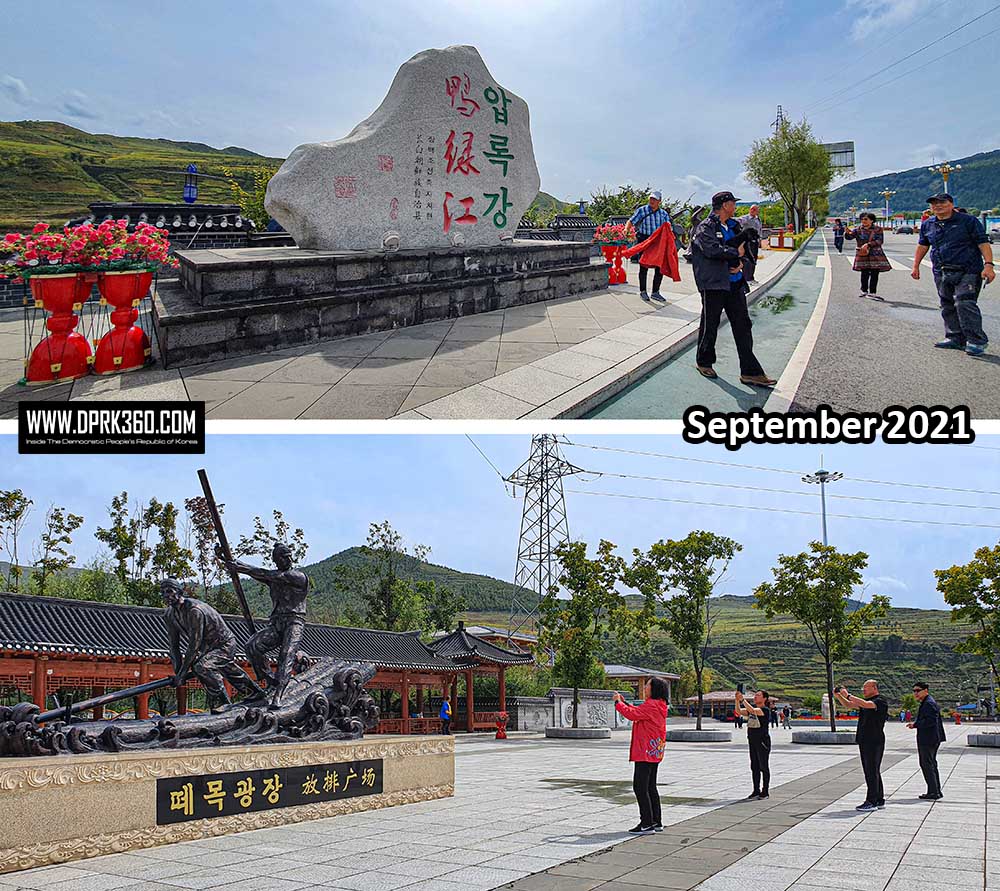 Chinese domestic tourists taking photos along the Yalu River.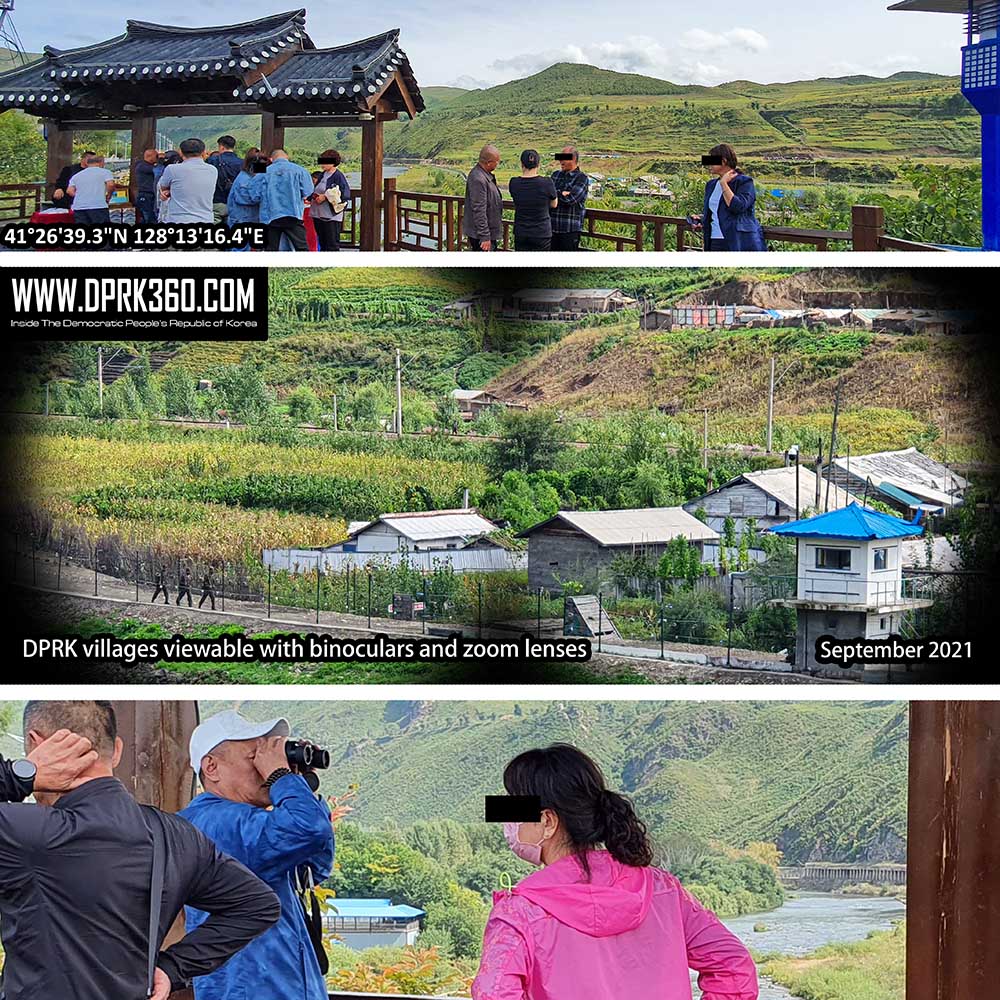 Chinese tourists on a boardwalk along the Yalu River. Across the river is a village in Hyesan, DPRK.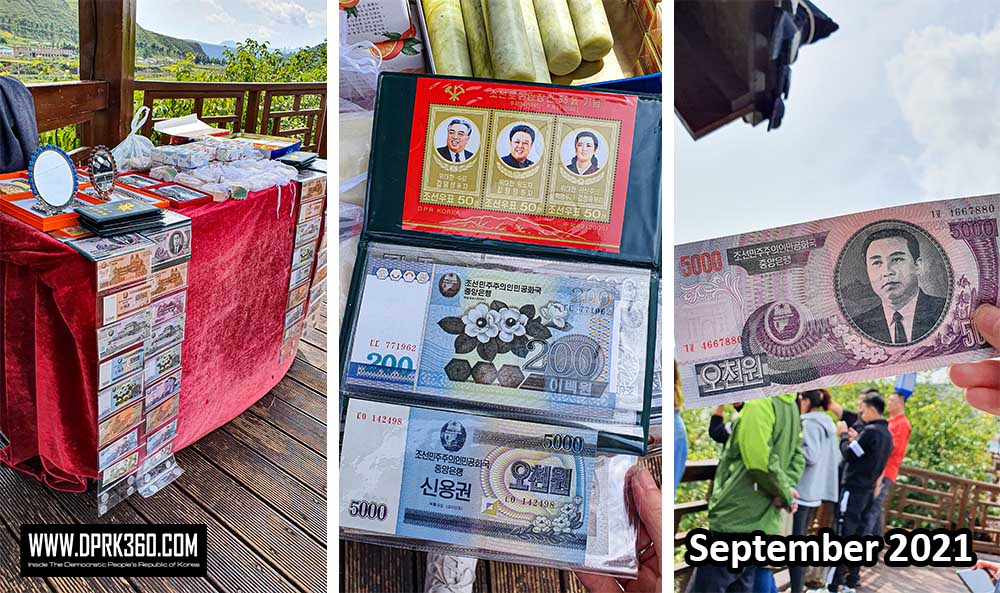 Sets of DPRK currency on sale for RMB 35 (US$5.50) at a makeshift stall by the most popular viewing spot. We were told that the currency was real and could be used in the DPRK. We were unable to authenticate the money but holding them up against the light, I could see the Arch of Triumph watermark. We bought a stack as souvenirs.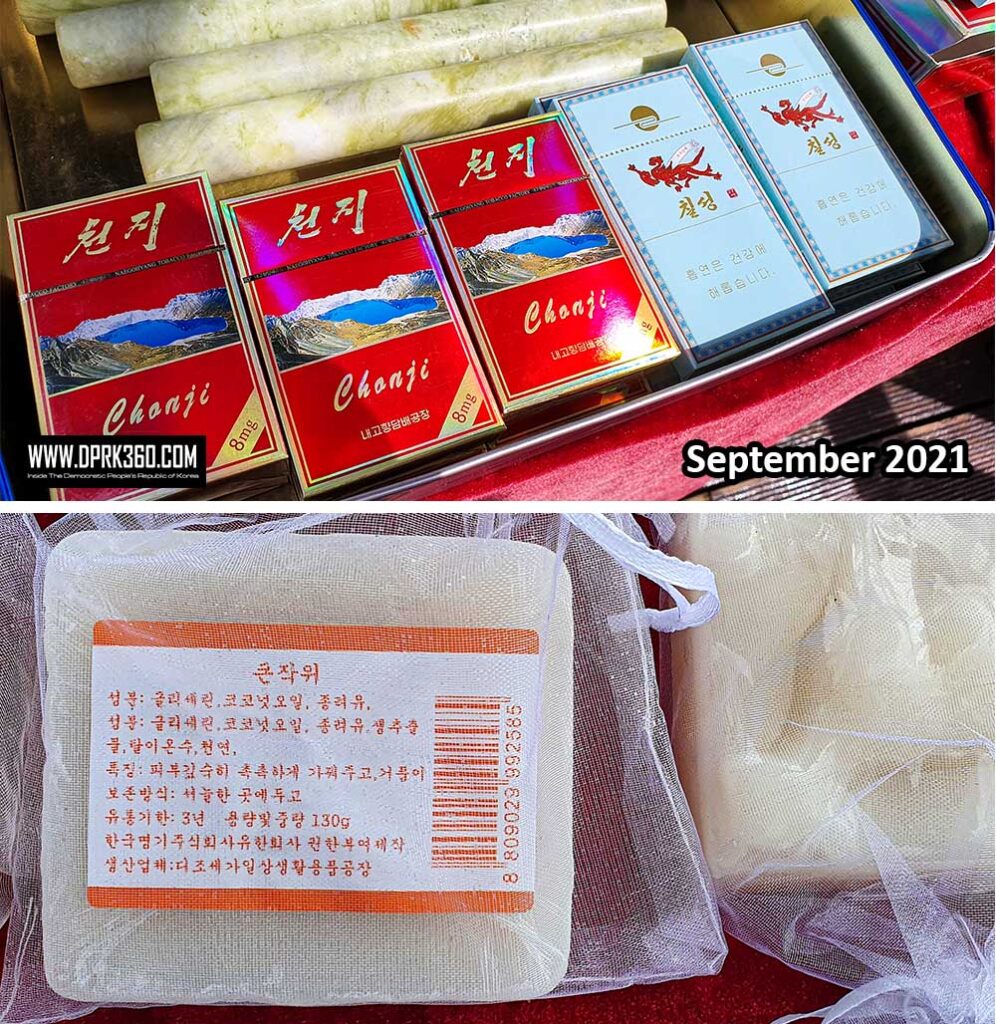 The stall owner claims that the cigarettes and goat soap were made in the DPRK. Since the DPRK's borders have been completely sealed since January 2020, we were curious as to how such goods are brought over into China. When I probed further, all that the seller could reveal was that "there are ways around it" 😉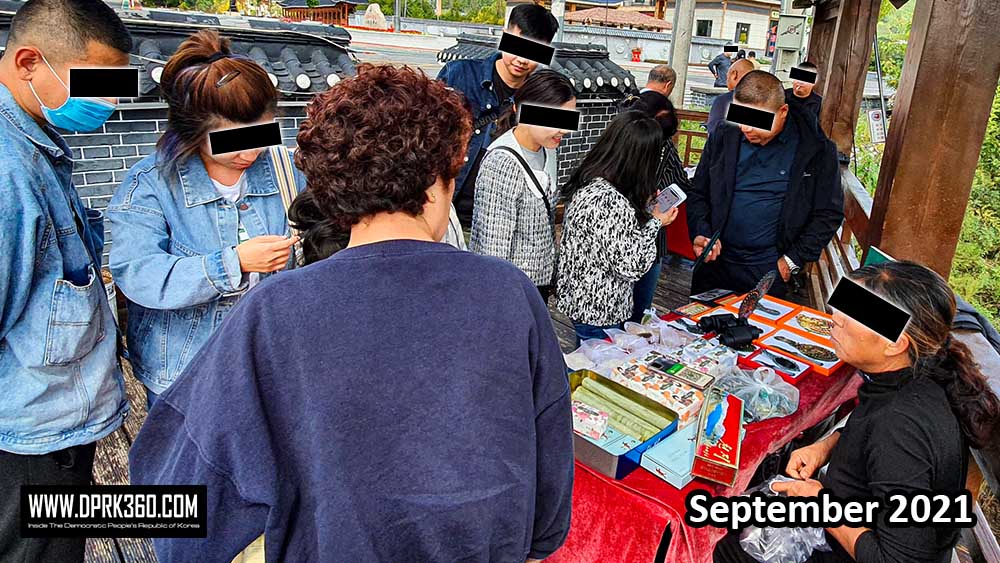 Business seemed brisk at the stalls along the river boardwalk. The seller said that there were many more domestic tourists during the national holidays. Other than these stalls by the river, we did not spot any DPRK souvenir shops in town.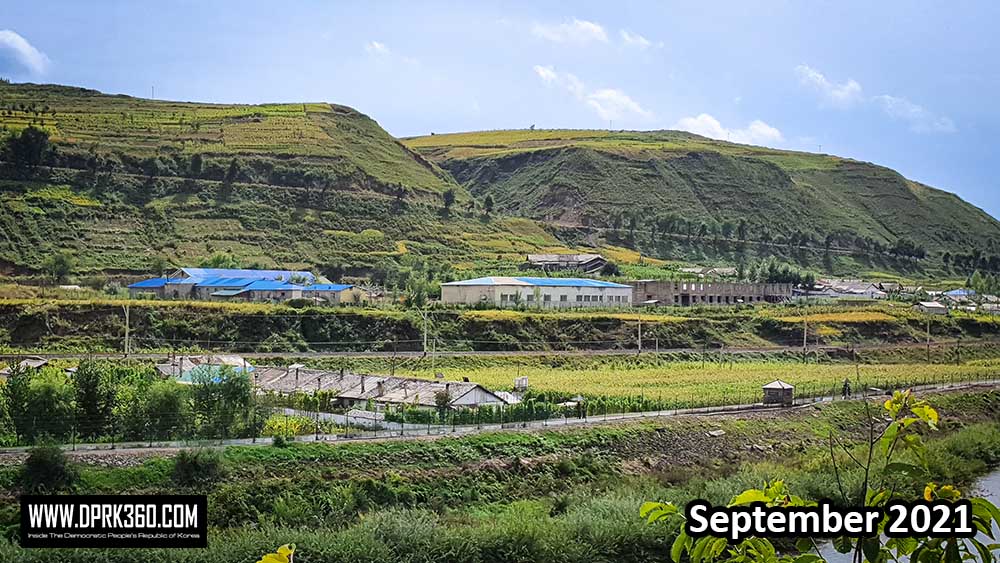 View across the river. Hyesan is just over 200 metres (656ft) away from where I'm standing. The Yalu River separating our two countries is a mere 50 metres (98ft) wide at this point.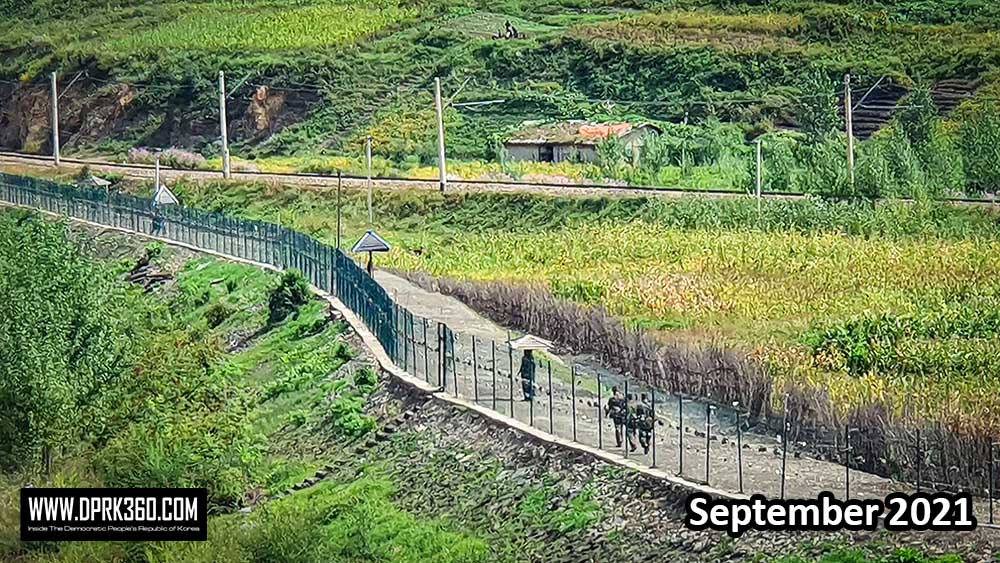 Military guard observation posts on the DPRK side could be seen every few hundred metres. The DPRK side of the Yalu River is heavily guarded by military personnel. Soldiers in groups of threes patrol up and down the border in opposing directions.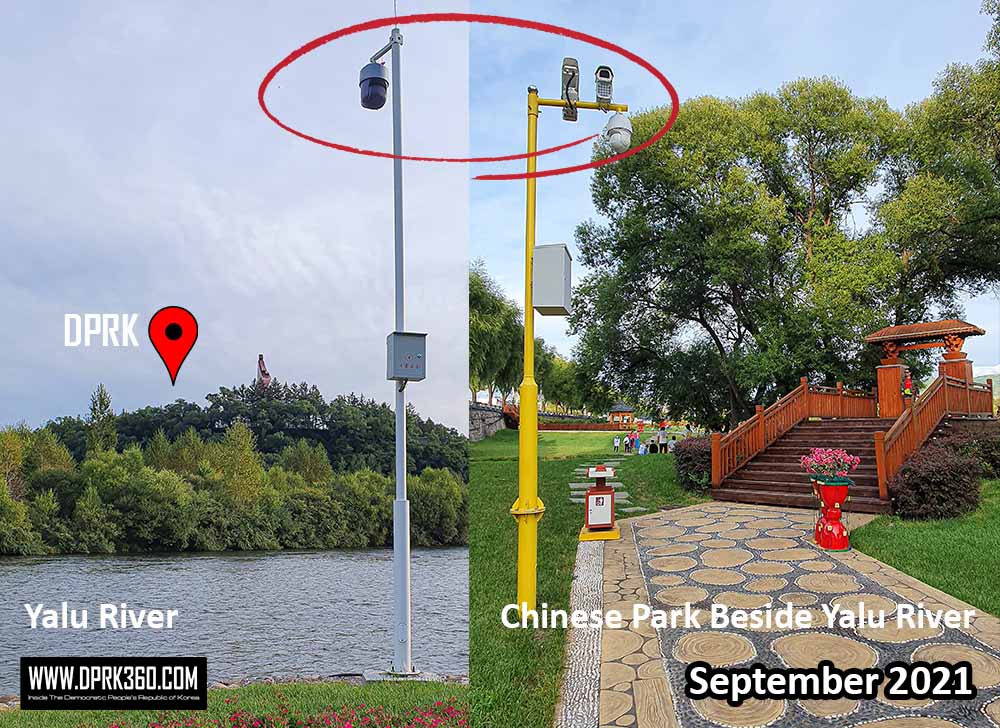 In contrast, there were barely any military presence on the Chinese side. Occasionally, one could spot a military vehicle passing by on the Chinese side, but no army or police officers were standing guard. With the use of high tech surveillance on the Chinese side, there was no need to deploy human guards to patrol the border.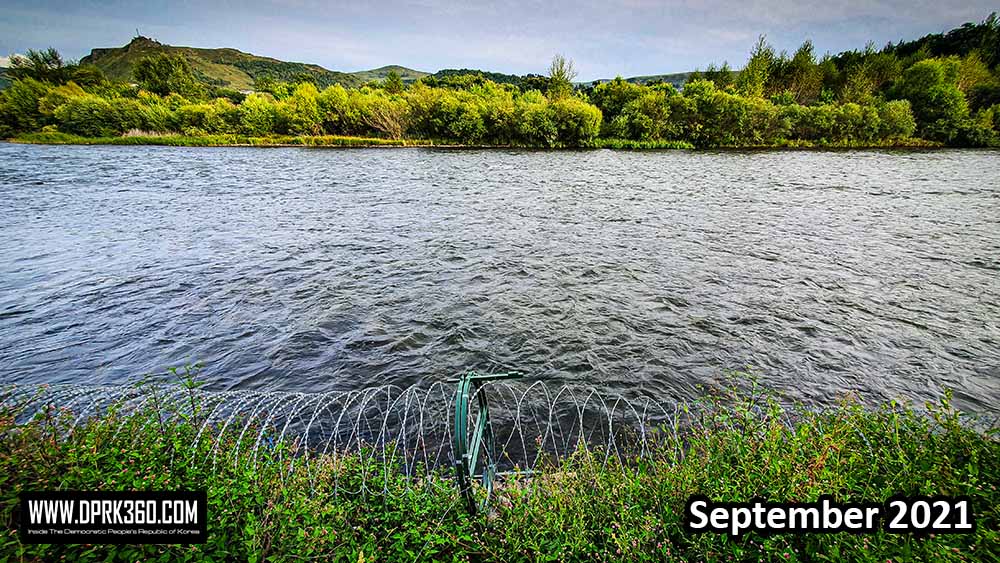 Heavy duty razor wire on the Chinese side of the Yalu River.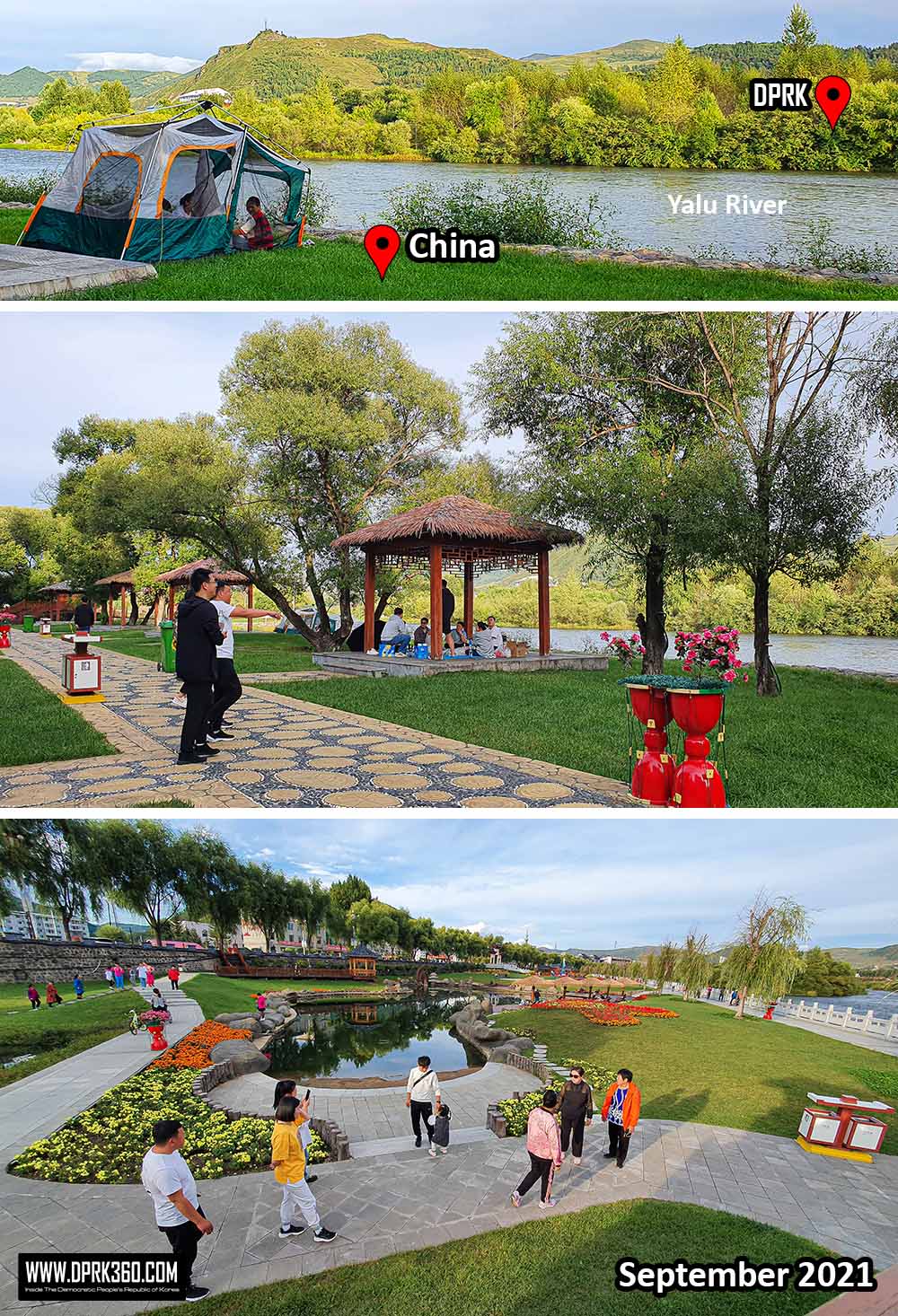 Further down the Yalu River, there is a park on the Chinese side where many locals come to enjoy themselves camping and having picnics. It is a peaceful and tranquil place, even though there are so many security measures.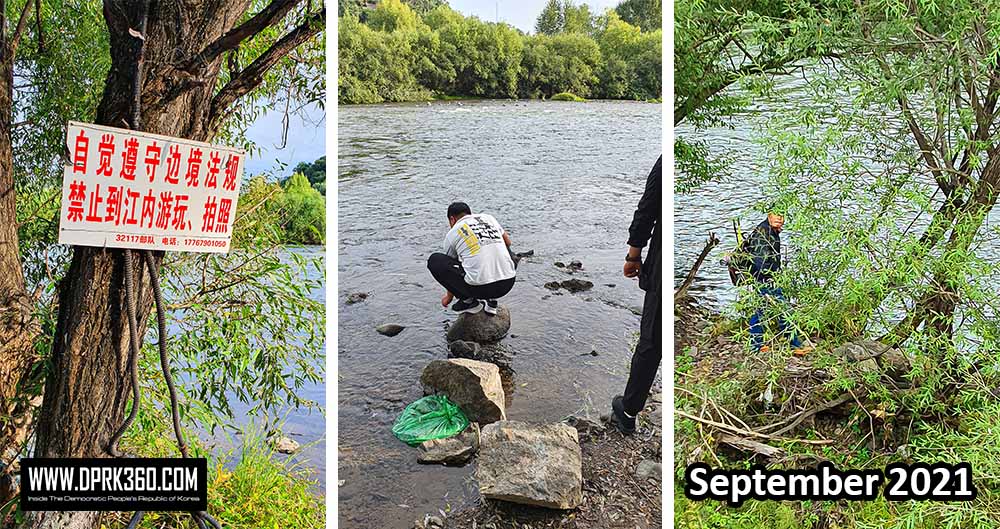 Despite many signs that prohibit people from stepping into the river or taking photos, it was a relaxed atmosphere along the Chinese side where one could easily touch the waters. People could be seen stepping into the Yalu River and fishing without any repercussions 🤣 and everyone takes photos of the DPRK all the time.
---
---
The Border Crossing
As tourism and trade has not resumed between China and the DPRK, all was quiet at the border crossing and there was zero activity on the bridge linking the two neighbours.

A quiet scene at the entrance of the border crossing. A banner advocating for COVID-19 vaccination could be seen on the right, covering an earlier poster promoting tourism to the DPRK.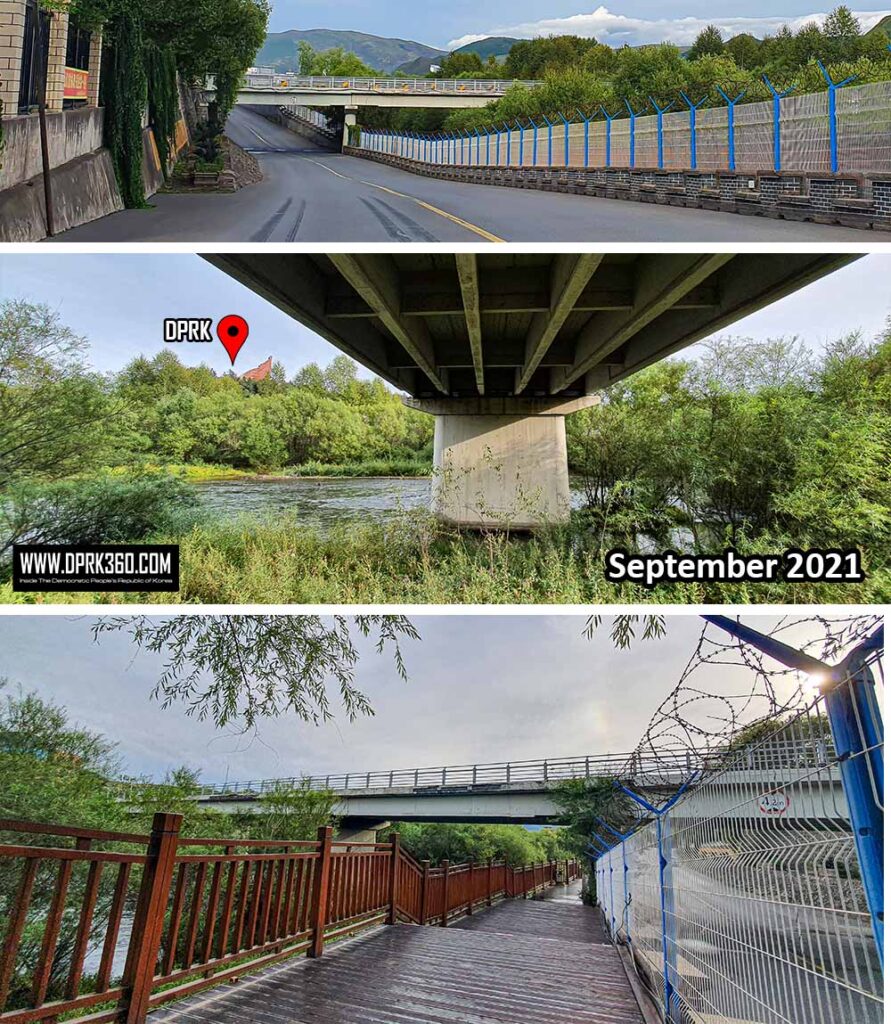 The 150 metre (492ft) bridge linking China to the DPRK.
Google Maps: 41°24'26.4″N 128°10'29.2″E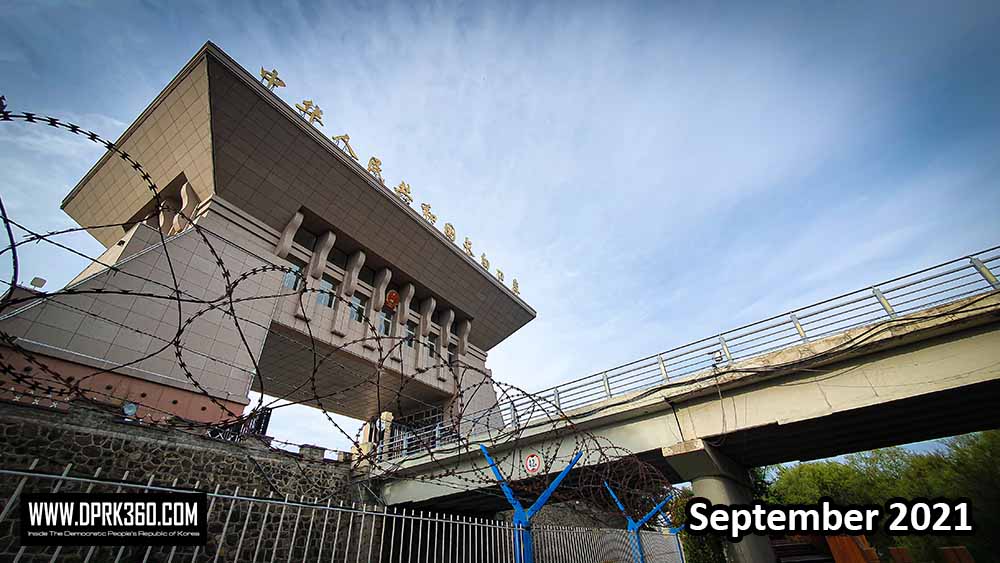 The gate on the Chinese side of the bridge. All was quiet.
The DPRK customs building is mostly obscured.
A sign that warns against the taking in of people from across the river and illegal trafficking of women and children. Similar signs could be seen in many spots along the Yalu River.
---
---
Changbai Border Trade Zone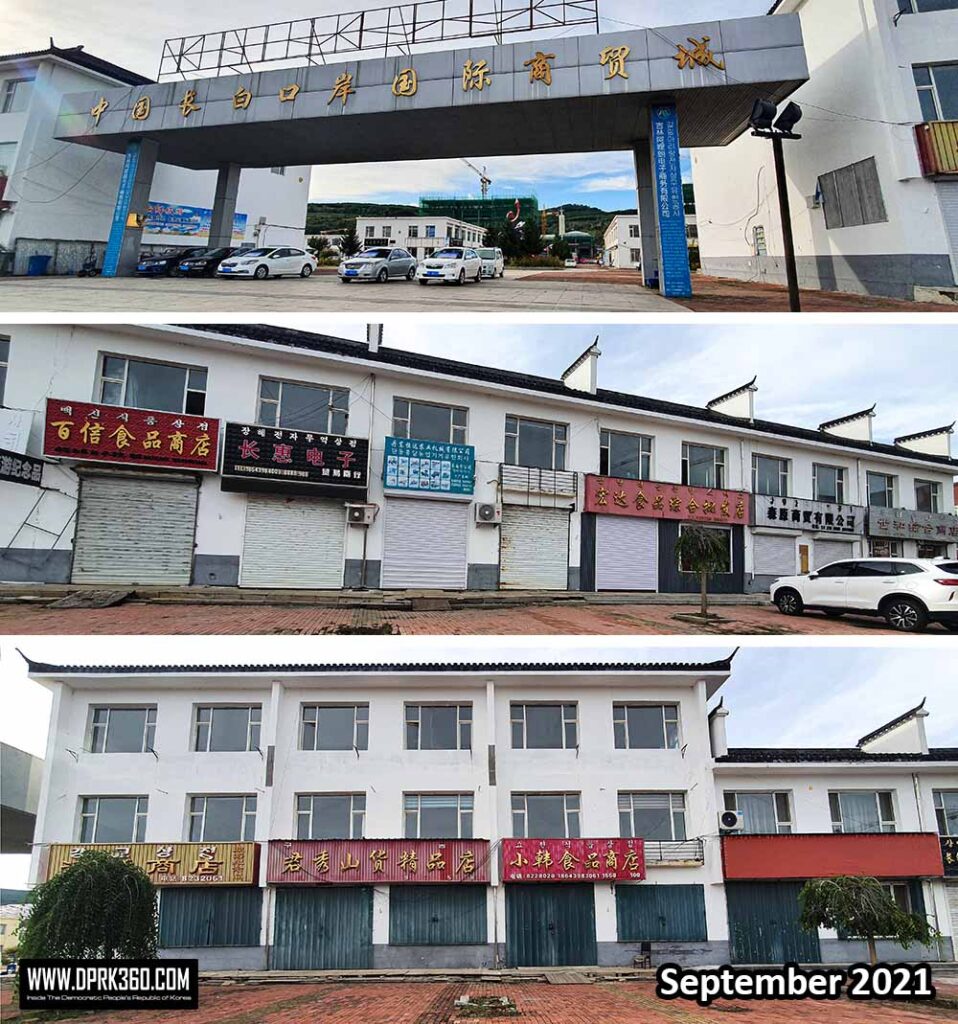 The Changbai border trade zone has been badly affected by the closure of the DPRK border. Rows of shuttered shops can be seen in the trade zone.
While it was eerily quiet at the border crossing with shops closed and tours to the DPRK still not operating, it was a different story at a spot not far from the border. A newly opened tourist attraction facing the Yalu River offers unblocked views of Hyesan from a high vantage point – if you have the courage to walk on a glass suspension bridge.
---
---
Overlooking DPRK from above Yalu River
A new tourist attraction facing Hyesan, Changbai Millennium Cliff City, opened in July 2021. We were eager to see for ourselves the unblocked views of Hyesan from a glass suspension bridge that stretches out above the Yalu River. Pity that we forgot our binoculars.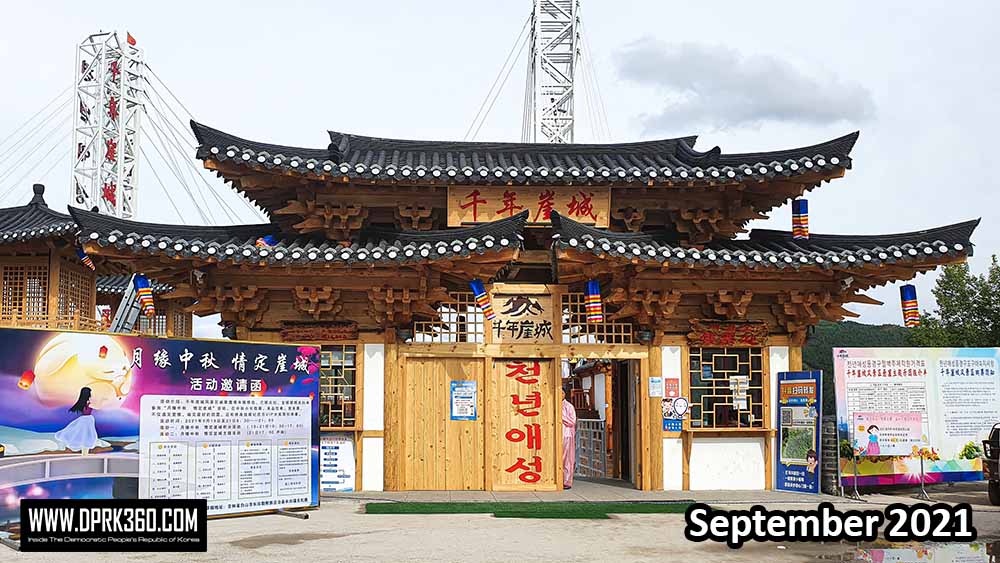 Entrance of Changbai Millennium Cliff City. Entrance to the attraction site is free but tickets have to be purchased to take the rides. Tickets can be bought for individual rides or as a package covering all rides. A ticket for the glass suspension bridge costs RMB 100 (US$15.65) At the time of entry in September 2021, they offered a free ferris wheel ride for each glass bridge ticket purchased.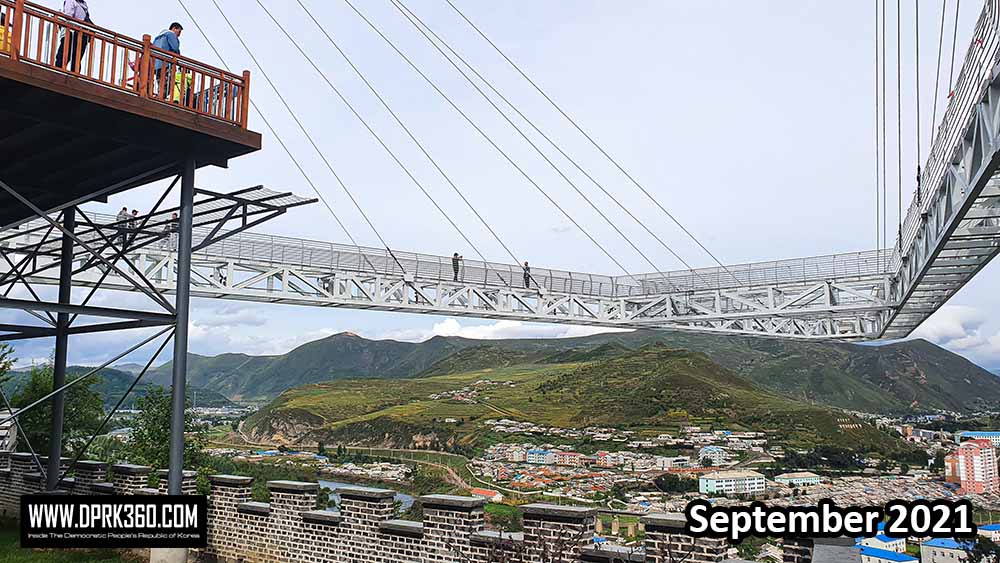 Glass suspension bridge that stretches out above the Yalu River. Buildings of Hyesan could be seen in the background.
Even if one does not pay to walk on the glass suspension bridge, Hyesan could be clearly seen from a free viewing platform just below the bridge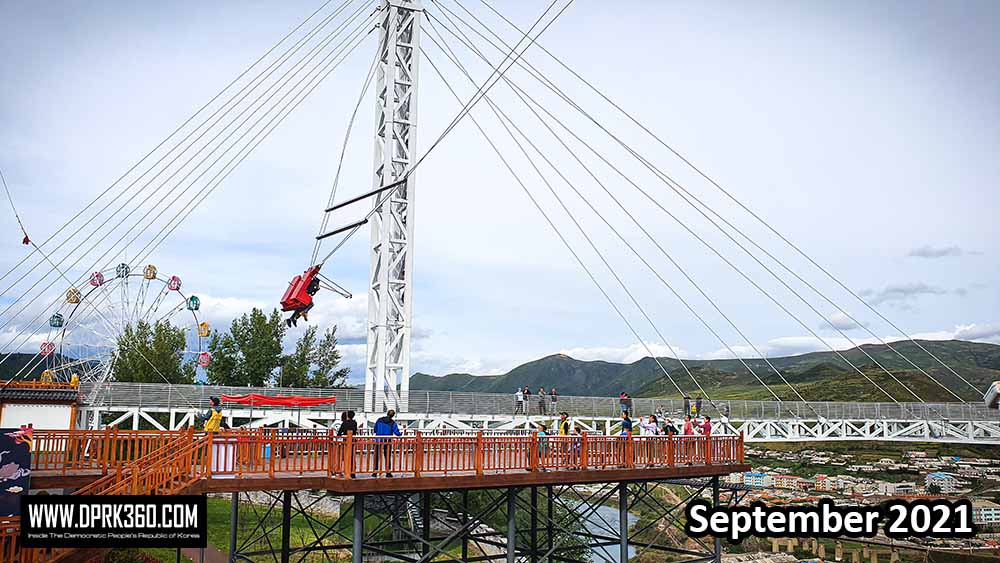 Courageous Chinese tourists scream their hearts out as they swing towards Hyesan and back. Makes me wonder if the Koreans across the river would be curious or annoyed at the shouts they hear everyday.
A Chinese tourist makes her way across a ladder bridge that is reminiscent of the very popular TV series, "Squid Game".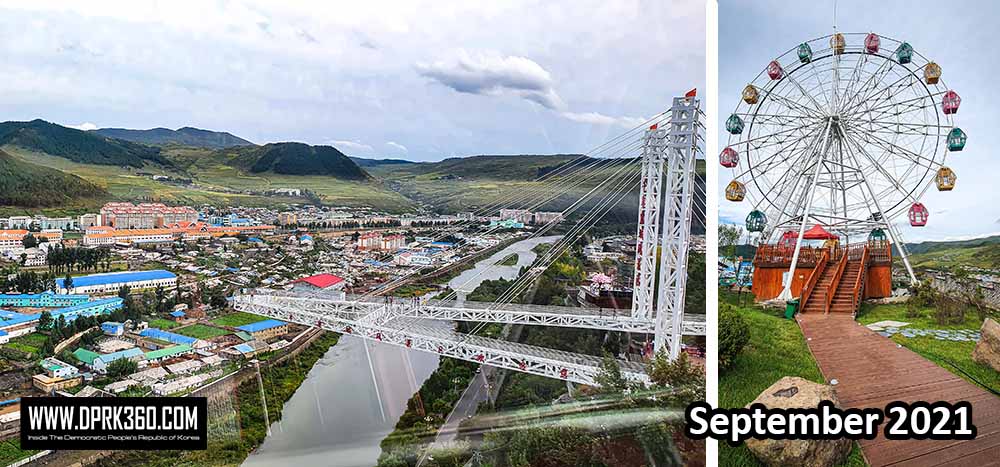 The view of the glass suspension bridge from the top of the ferris wheel.
View of buildings in Hyesan taken from the ferris wheel. People could be seen crossing a bridge on the right.
Shoe covers to prevent scratching the glass are provided and required to be worn before stepping onto the glass bridge. The glass is so clear that it can be a terrifying experience. The Yalu River could be seen through the glass floor.
A banner prohibiting photo taking of the DPRK. Before stepping onto the bridge, we asked if photo taking was allowed and an employee said it was okay and that it was precisely for taking photos that people would pay to go on the bridge. So… the banner is just for show 🤣

Many Chinese tourists could be seen posing and taking photos on the glass bridge. So photography is allowed.
While it was not too crowded on the weekend we were there, a local Han Chinese whom we met told us that Changbai attraction sites such as this sees many domestic tourists during the holidays. A lady who looked like she was in her late thirties with her two young boys and their grandmother, she recounted how easy it was to cross the river to trade and do business with the Hyesan residents when she was little. As border rules tightened, it is now no longer possible to simply walk across the river freely.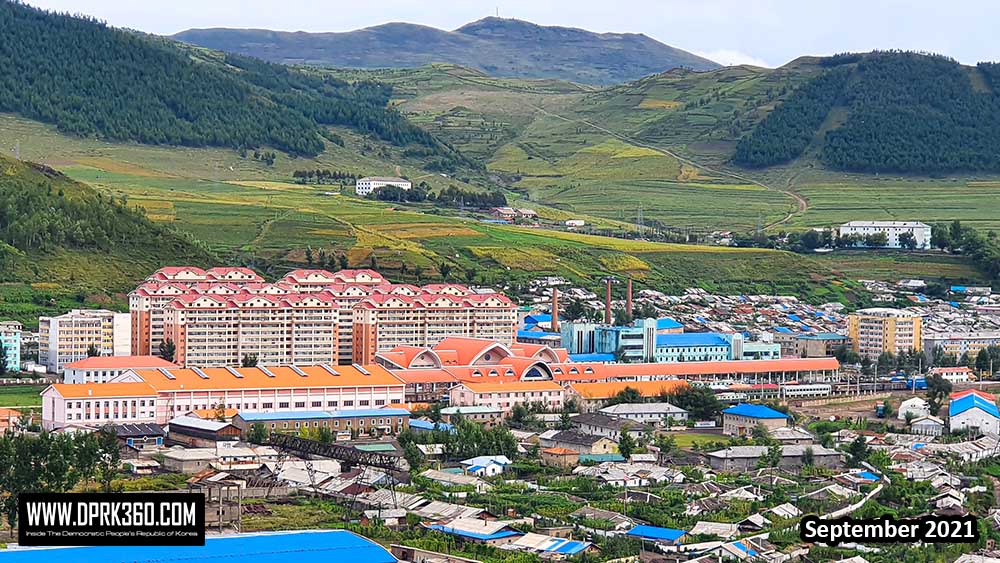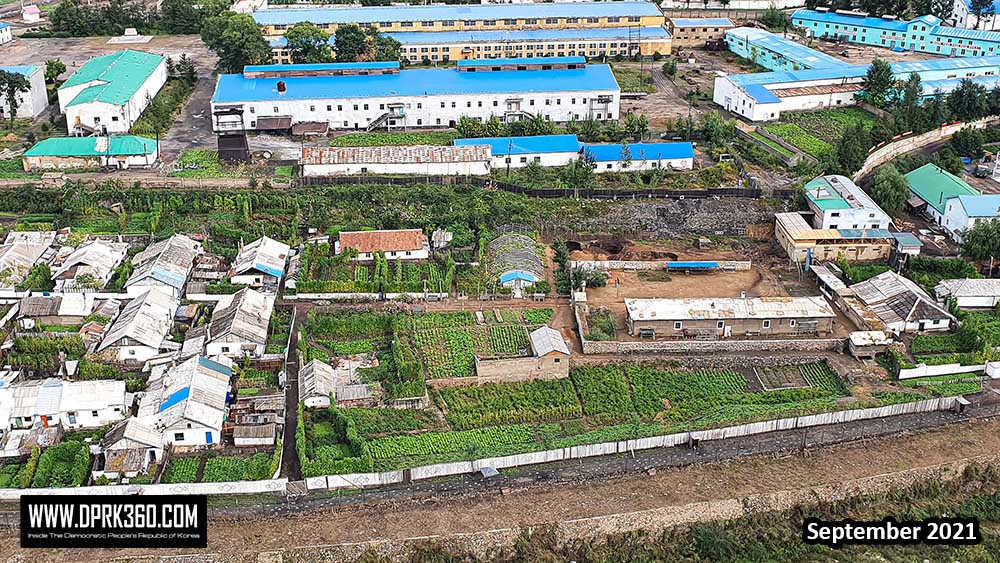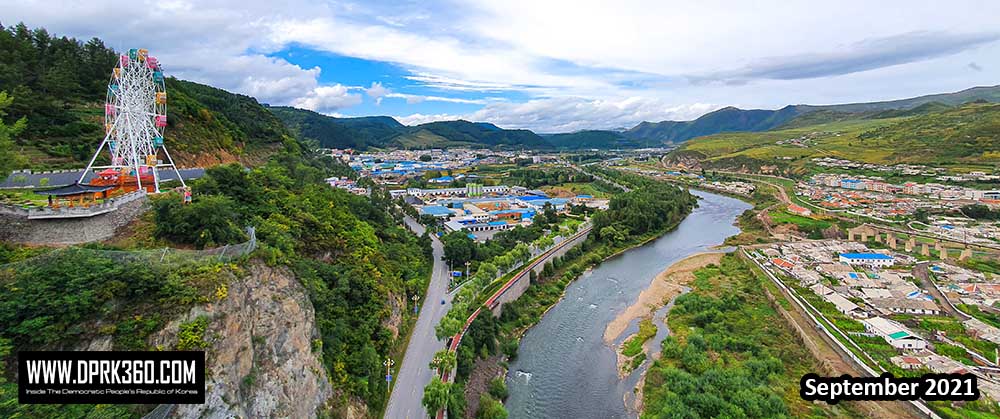 After spending some time at the tip of the glass suspension bridge, the initial curiosity and excitement of being so up close overlooking Hyesan turned into an uneasy feeling. This vantage point definitely offers unblocked views that could satisfy one's curiosity about a place and people that we do not normally get access to. But I wonder what it would feel like to be on the receiving end of having curious onlookers peering into one's lives on a daily basis.
---
---
Overlooking Changbai and Hyesan
A small town with less than a population of 40,000, there sits a mountain called Ta Shan Park (Tower Mountain Park), which offers another view of Changbai and Hyesan.
View from top of Ta Shan (Tower Mountain). From this view, there seems to be not much difference between two places separated by a river.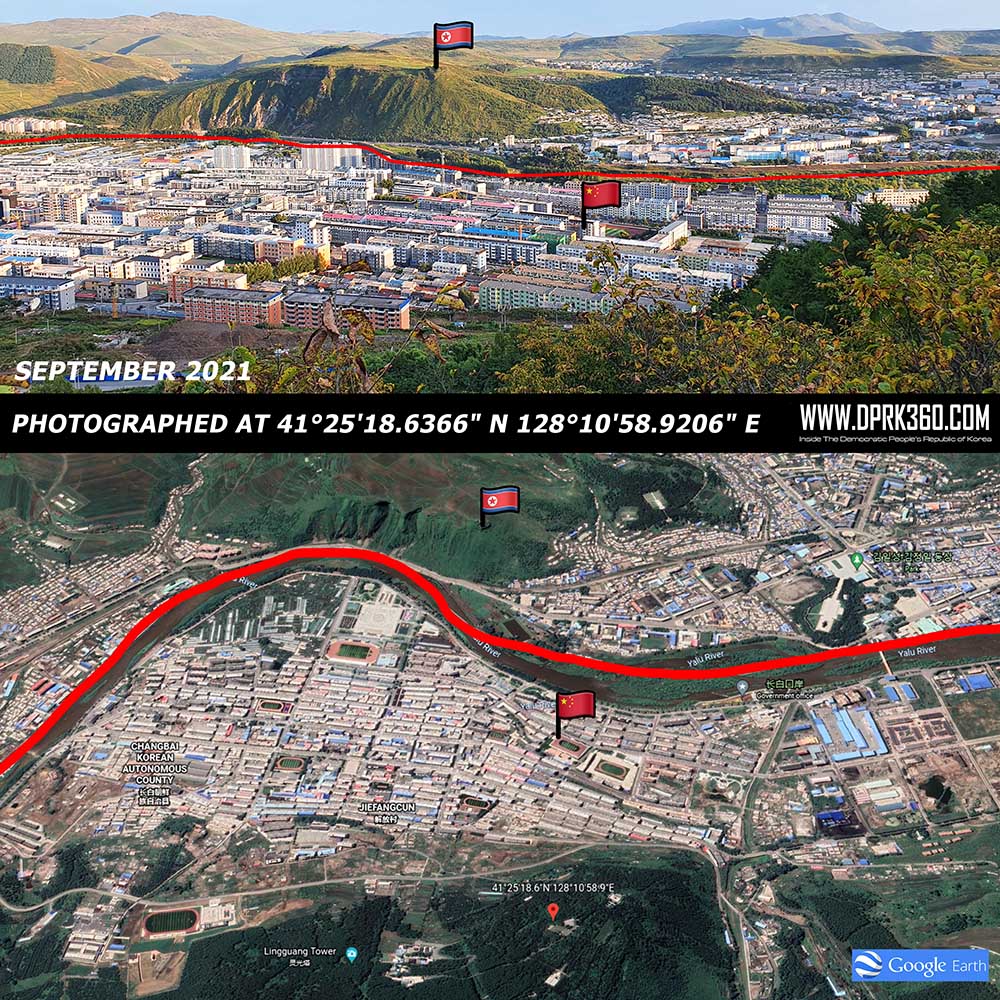 This images gives you a better idea as to what you're looking at with the help of the Google Earth app.

A closer view of Hyesan across the Yalu River.

Forgot to bring your 600mm zoom lens? Don't fret because this conveniently positioned souvenir shop has got you covered with rental binoculars for RMB 20 (US$3.15). A signboard states the list of places in Hyesan that one could spot, including schools, a department store, train station, cinema and more! Just stick your mobile phone up to the binoculars and snap away.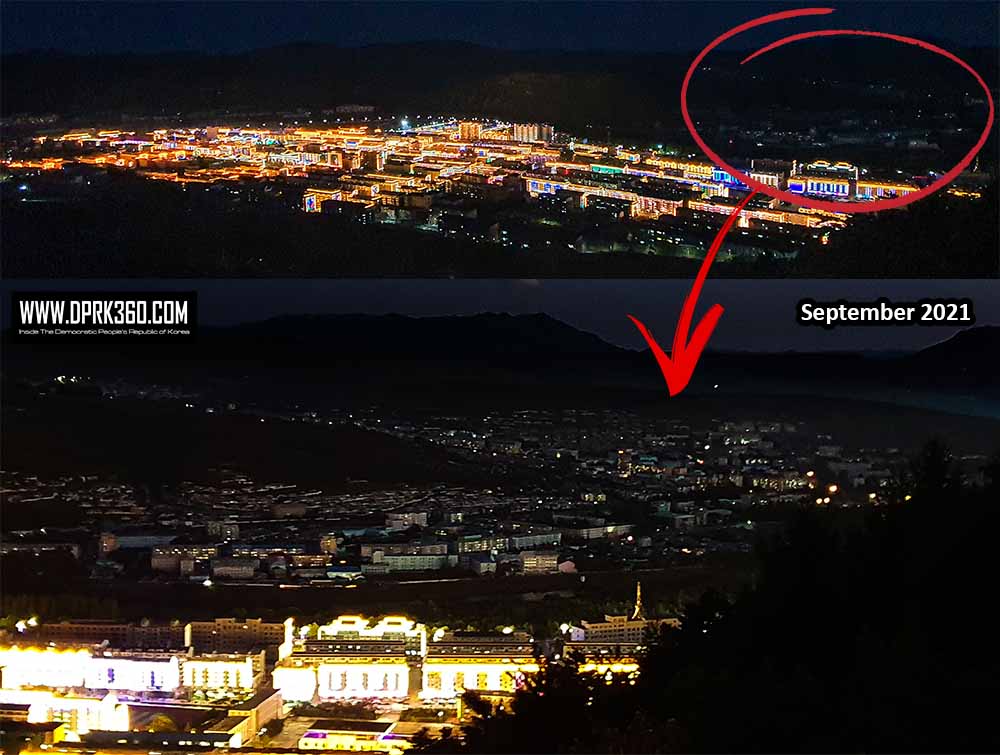 As night fell, the contrast between Changbai and Hyesan is made obvious by the neon lights wrapping around Changbai buildings. While the neon lights of Changbai make Hyesan seem dark, you can still see lights coming out from buildings in Hyesan.
---
---
Mount Changbaishan (Paektu Mountain)
About 60 kilometres away from the town of Changbai lies the southern entrance of Changbaishan (Changbai Mountain), a dormant volcano. The source of the Yalu River is from this mountain, which is shared between China and the DPRK. The eastern side belongs to the DPRK, where it is known as Mount Paektu. Tianchi Lake (Heaven Lake), a lake formed in a crater at the top of the volcano cone marks the boundary between China and the DPRK.
As border regions are sensitive areas due to national security concerns, strict border checks by the Chinese border authorities are in place. As we made our way to Changbaishan, we had to go through stringent identification checks and additional health checks to ensure that our digital health code was green during such COVID-19 times.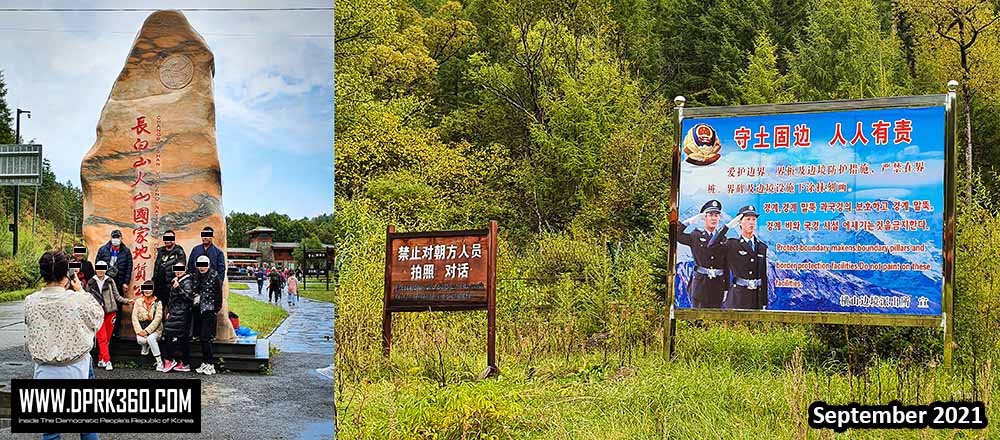 Near the entrance of Changbaishan, a sign on the left prohibits talking to persons from the DPRK and taking photographs of them.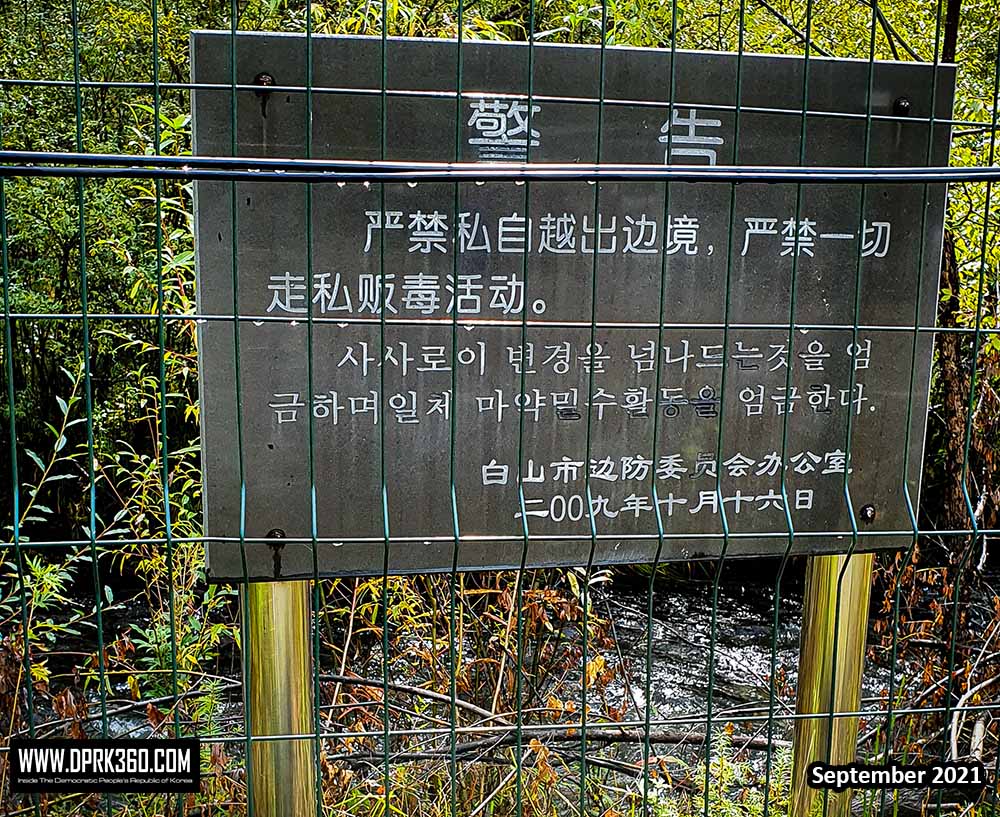 A warning sign at the perimeter fences that prohibits the crossing of borders and smuggling of drugs.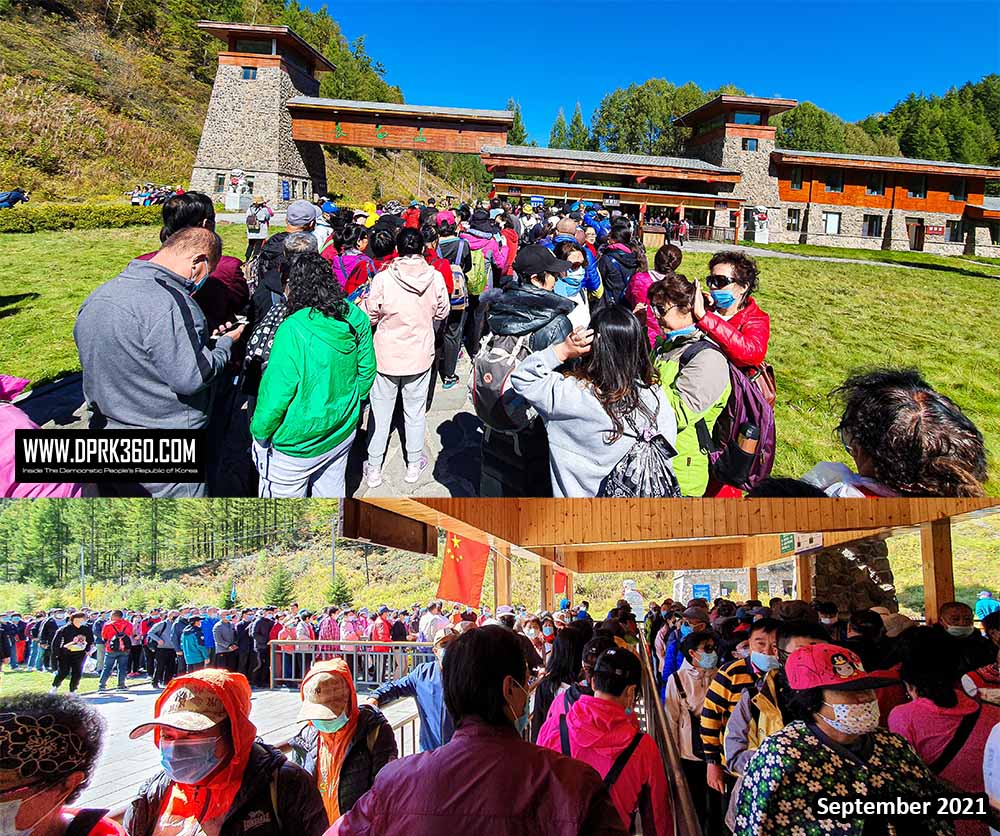 A long queue forms to enter Changbaishan (Southern slope). Everyone is Chinese and there isn't a single foreigner. As COVID-19 outbreaks are still occurring in China, masks mandatory to be worn before entering Changbaishan.
The stone you see here has the Chinese words "Tianchi" engraved, meaning Heaven Lake, a lake in the crater of the dormant volcano. Up the mountain near Tianchi Lake, a sign informs visitors that one has entered the border area and has to abide by border laws and regulations. Climbing over fences, the use of aerial photography equipment to take photos and video recordings of across the border are prohibited.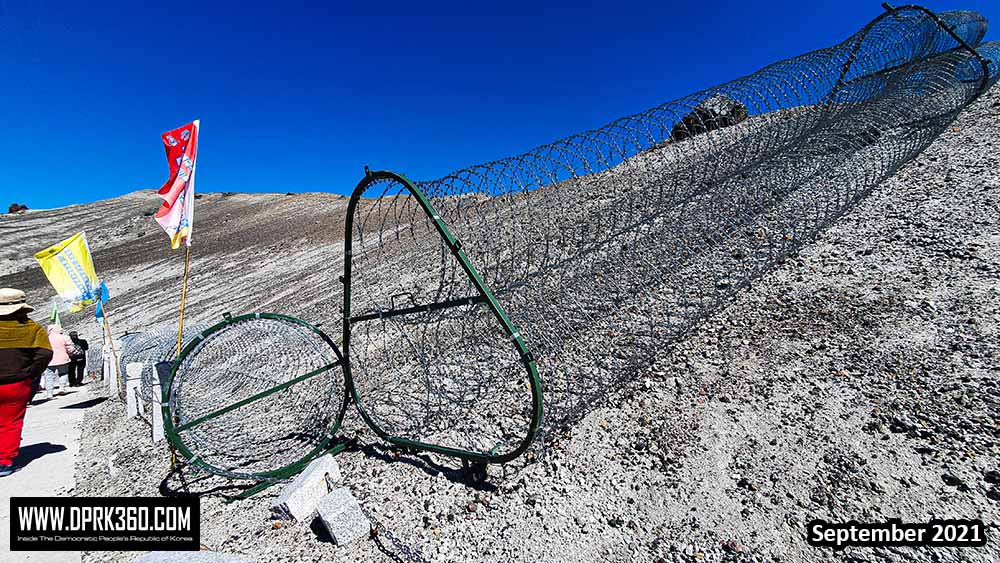 Heavy duty razor wire fences keep anyone from wandering across the boundary.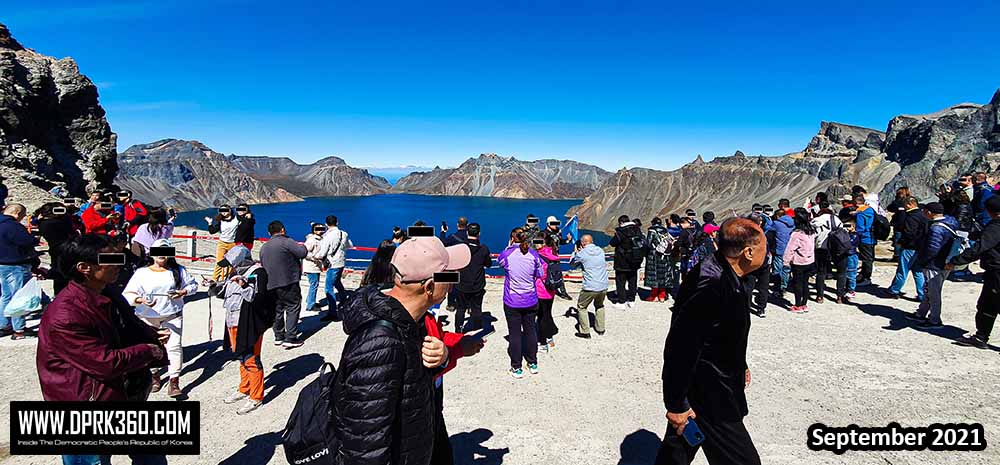 We finally reached the lake and it is very crowded. Everyone wants to have their photo taken here.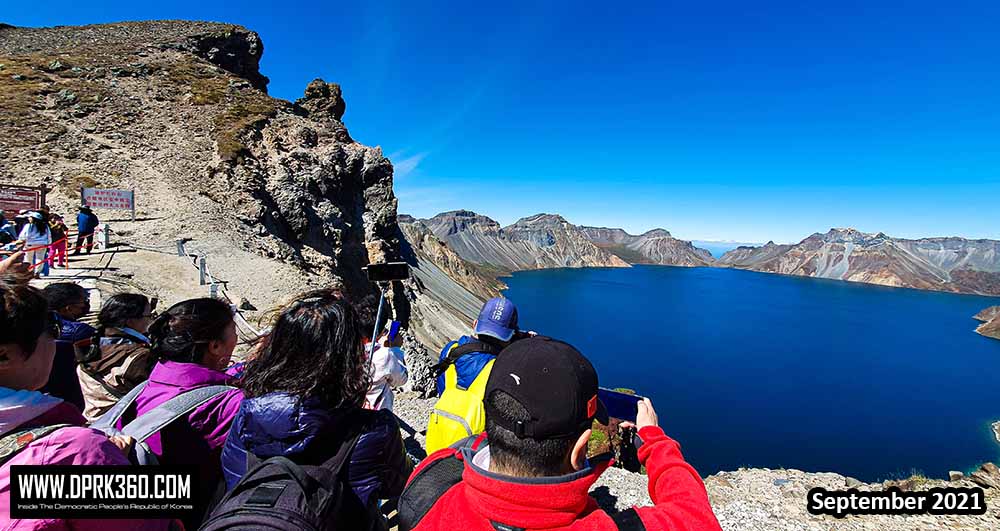 Heaven blessed us that day with clear skies.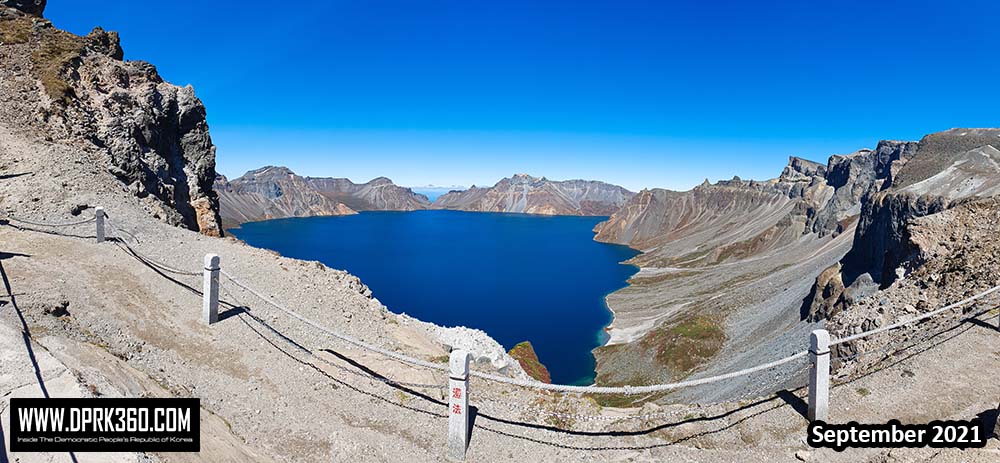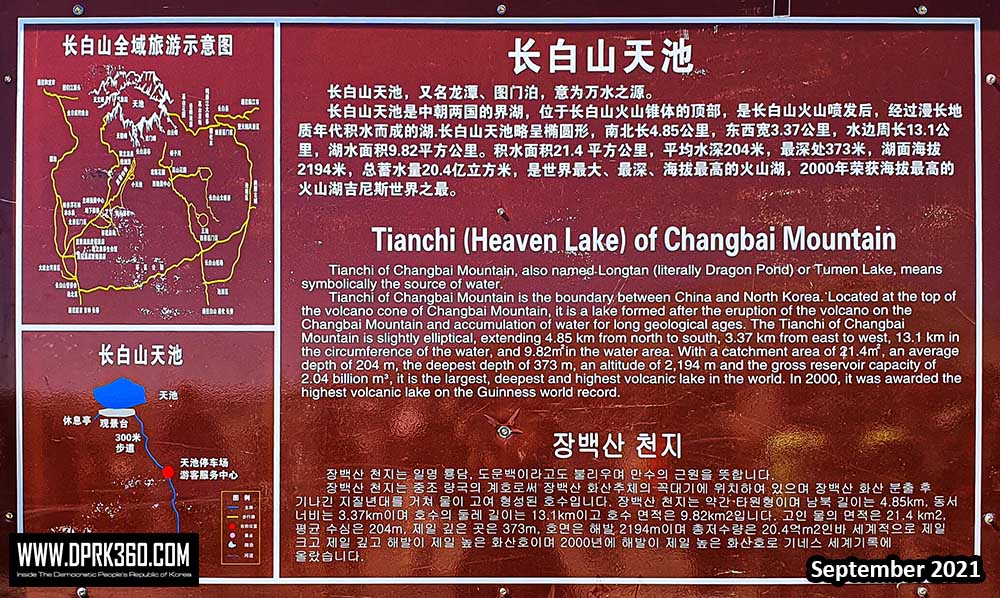 A boundary tablet marking China's borders. Such tablets could be seen in many border areas in China. The Red boundary lines mark off-limits areas.
Just across the fence is the DPRK. It is so close yet feels so far.

A climb higher up the mountain reveals a spectacular scene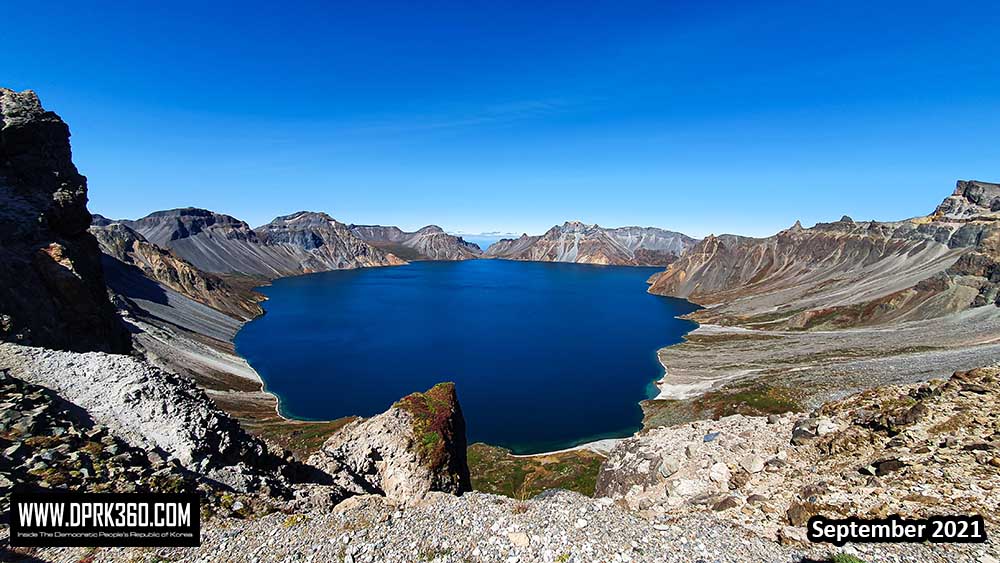 The beauty of Heaven Lake is so surreal… 😍🥰 It was worth all the effort just to get here.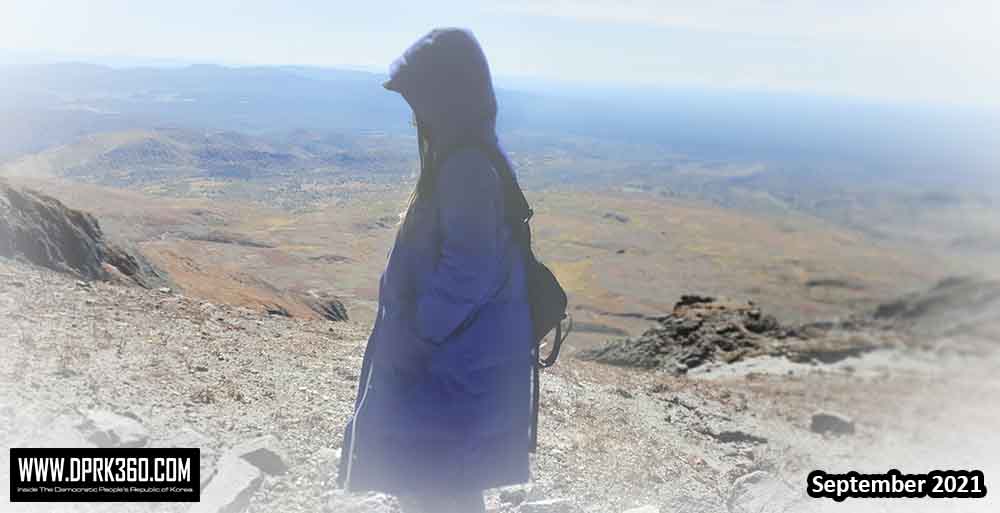 Minhye's journey around Changbai ends here. Follow her in Part 2 as she visits Tumen City: https://dprk360.com/inside-north-korea/china-dprk-border-towns-during-the-covid-pandemic-part-2-tumen/2927/
---