Re-operation of Inter-Korean Communication Liaison Lines
The following article has been reproduced from the official DPRK news website.
Pyongyang, July 27 (KCNA) — The Korean Central News Agency released the following report on July 27, 2021:
Now, the whole Korean nation desires to see the north-south relations recovered from setback and stagnation as early as possible. In this regard, the top leaders of the north and the south agreed to make a big stride in recovering the mutual trust and promoting reconciliation by restoring the cutoff inter-Korean communication liaison lines through the recent several exchanges of personal letters.
According to the agreement made between the top leaders, the north and the south took a measure to re-operate all inter-Korean communication liaison lines from 10:00 on July 27. The restoration of the communication liaison lines will have positive effects on the improvement and development of the north-south relations.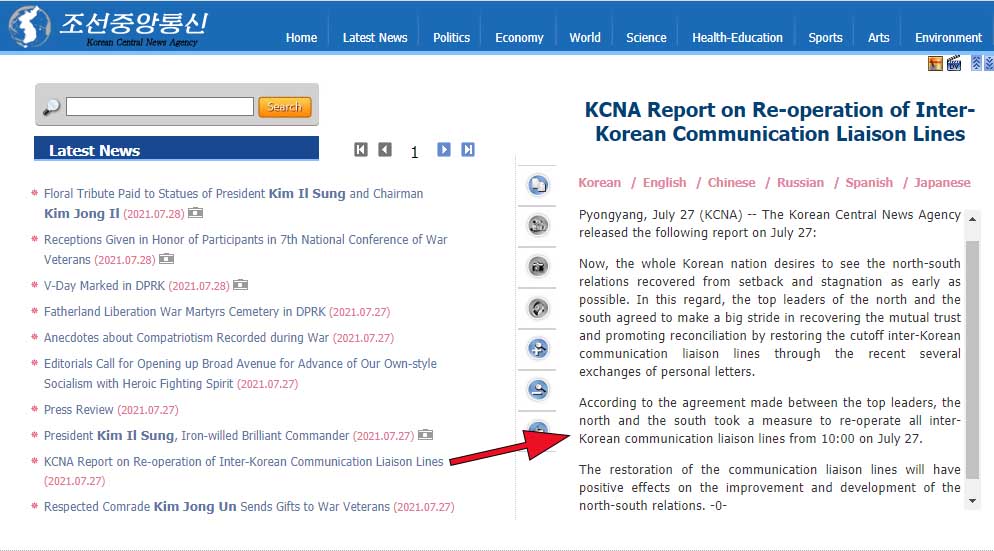 조선중앙통신사 보도
지금 온 겨레는 좌절과 침체상태에 있는 북남관계가 하루빨리 회복되기를 간절히 바라고있다. 이와 관련하여 북남수뇌들께서는 최근 여러차례에 걸쳐 주고받으신 친서를 통하여 단절되여있는 북남통신련락통로들을 복원함으로써 호상신뢰를 회복하고 화해를 도모하는 큰걸음을 내짚을데 대하여 합의하시였다.
수뇌분들의 합의에 따라 북남쌍방은 7월 27일 10시부터 모든 북남통신련락선들을 재가동하는 조치를 취하였다.
통신련락선들의 복원은 북남관계의 개선과 발전에 긍정적인 작용을 하게 될것이다.
주체110(2021)년 7월 27일
평 양(끝)